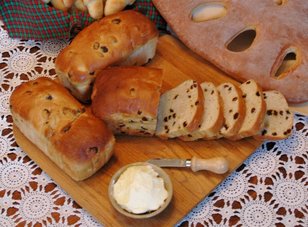 Raisin Bread

2 pkg. active dry yeast 2 eggs
1/4 cup warm water 3 Tbs. butter
1 ½ cups milk 5 ½ to 6 cups bread flour
2 Tbs. sugar 1½ cups raisins
2 tsp. salt extra butter and sugar for topping


Proof yeast in warm water. In a small saucepan, heat milk and butter until butter is nearly melted. Pour into a large mixing bowl and cool to lukewarm. Add yeast, sugar, salt, and egg, and stir until blended. Add 5 cups of flour, one cup at a time, until the dough is workable and pulls away from the side of the bowl. Add the raisins and mix them in by hand. Turn dough out onto a lightly floured board and knead for five minutes, adding enough of the remaining flour to make a smooth, elastic dough. Place in large bowl and cover with a dish towel. Let rise in a warm place free from drafts for about one hour.

Punch dough down and knead briefly to work out larger air bubbles. Form into loaves and place in greased pans. Let rise until nearly doubled, about 45 minutes. Brush the top of each loaf with melted butter and sprinkle with sugar. Bake at 425 F. for 10 minutes. Then loosely cover loaves with aluminum foil and reduce heat to 375. Bake for another 25 to 30 minutes. Loaves are done when they sound hollow when tapped on the bottom. Remove from pans and cool on racks.


Notes
---This is another one of Mom's favorite recipes, which has won a ribbon no fewer than 21 times at the Heart of Illinois Fair. I can't guarantee you a blue ribbon, but you'll be a winner with your family and friends if you bake raisin bread. The sugar topping forms a beautiful brown crust, and the milk makes for a soft, tender crumb.
---I will be the first to admit that I don't make this bread as often as my fellow monks would like. It makes exquisite toast.
---