Ice Cream Muffins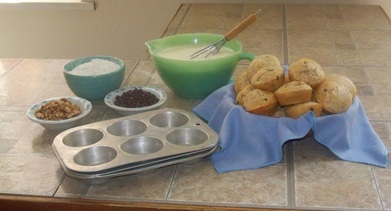 Yield: 6 muffins

1 cup self-rising flour (see note)
1 to 1 ½ cups melted ice cream, any flavor

Preheat oven to 375 degrees. Place flour into a medium bowl. Stir in enough of the melted ice cream to make a thick batter. If the ice cream has chocolate chips or nuts, make sure they get mixed in, too. You can also add nuts, candy, or fruit to the mix.

Lightly grease a six cup muffin tin. Divide batter among muffin cups. Bake for 10 to 12 minutes, or until a toothpick inserted into the center of a muffin comes out clean. The tops of the muffins may not brown very much, but the tops should spring back when lightly pressed.

Let muffins cool to lukewarm, then eat immediately. Feel free to dunk pieces of the muffin in the remaining melted ice cream.

Note: if you don't have self-rising flour in hand, you can substitute 1 cup of all-purpose flour, 1½ teaspoons of baking powder, and ½ teaspoon of salt.


---