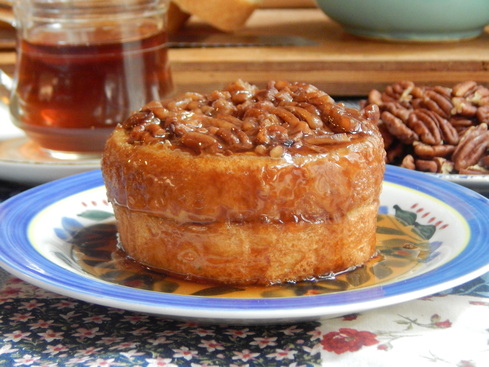 French Toast
Custard Cups






For each mini-casserole, you will need:
1 egg
2 Tbs. whole or reduced-fat milk
2 thick or 3 medium slices of day-old bread
2 Tbs. chopped pecans
1/3 cup maple-flavored syrup
1 Tbs. butter
1 oven proof bowl, about 5" across and 2" deep.

Preheat oven to 350 degree F. Lightly coat the interior of the ovenproof bowl with cooking spray or butter. Trim bread slices to a shape and size that will fit the bowl. In another larger bowl, whisk egg and milk, then place bread slices in egg mixture until liquid is absorbed. Combine nuts and syrup in the bottom of the ovenproof bowl, and dot the surface with the butter. Place the soaked bread slices on top---they should not reach past the lip of the bowl. Place bowl on a baking sheet to prevent drips, and place in the preheated oven. Bake for 30 to 35 minutes, until top is lightly browned and center is firm. Remove from oven and allow to set for about five minutes. Invert bowl onto a plate, remove bowl and serve.

Breadhead Backstory
I first served these at a family Christmas brunch and they are still among my mother's favorite recipes. You can plenty of recipes for larger French toast casseroles, and they usually serve six to eight. But what if you're single---do you have to host a brunch before you get try that recipe? Or what if you have the whole family for the holidays, but not everyone likes French toast? So I developed these individual serving casseroles, so you can make as few or as many as you like. Keep your eyes open at second-hand shops for soup bowls with handles—they are just the perfect serving size.

The recipe will give you a custard-like casserole, sort of like bread pudding, but with a maple-pecan sauce. If you like a drier French toast (as I do), actually cook the bread slices on a heated skillet as you normally would for regular French toast. Then reduce the amount of syrup to a quarter cup, assemble the casserole and bake as usual. Ordinary supermarket sandwich bread won't work for this recipe. I usually bake my own French Loaves a couple days before, or but a local artisan bakery may sell you a day-old loaf at a reduced price.


---