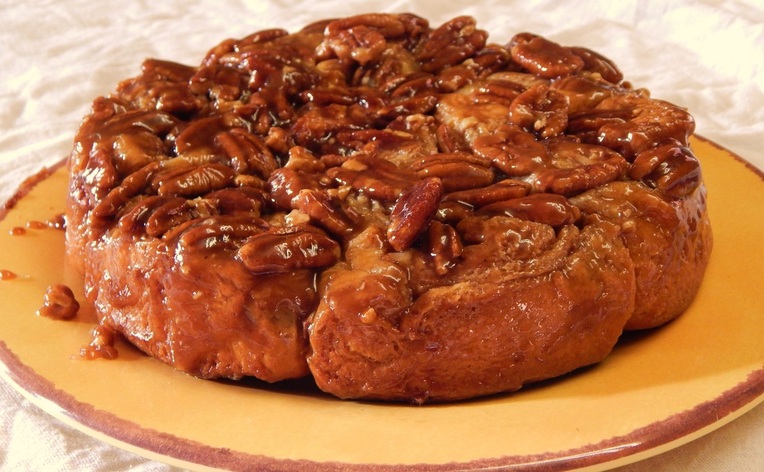 Fabs' Nutty Goodness Rolls

Dough
1½ cups sour cream
2 Tbs. vegetable oil
½ cup sugar
2 pkg. yeast
½ cup water
¼ tsp. soda
2 tsp. salt
2 large eggs
4 ½ cups flour

Filling
1/3 cup packed brown sugar
1/3 cup granulated sugar
¼ cup all purpose flour
1 Tbs. ground cinnamon
¼ cup ( ½ stick) cold butter, cut into ½" slices
½ cup chopped pecans

Nutty Goodness Caramel Sauce
Combine ½ cup (1 stick) butter, 1 cup brown sugar, and ¼ cup corn syrup in a small sauce pan, and cook over medium heat just until sugar is dissolved. Remove from heat and cool slightly. Pour into pan and sprinkle on ¾ cup of chopped pecans.

In a small bowl, proof yeast in the water. Warm sour cream, shortening, and sugar in a saucepan over medium heat—do not boil. Remove from heat and cool to lukewarm. Stir in soda and salt, then cool to lukewarm. Pour into large bowl, and add yeast and eggs, stirring until smooth. Add flour, about 1 cup at a time. Turn out onto lightly floured board and knead for about three minutes. Dough will be quite sticky, but avoid the temptation to add too much more flour, just a tablespoon or two to keep the dough manageable. Allow dough to rest for about 10 minutes (it will firm up nicely during this time.) In a small bowl, prepare filling by combining brown sugar, granulated sugar, flour, cinnamon and butter; blend together with a pastry mixer or two knives until the mixture resembles coarse crumbs. Stir in the ½ cup of pecans. Prepare Caramel Sauce as directed. Roll dough out into a 18" x 16" rectangle. Sprinkle with filling. Roll up from long side, jellyroll style, and pinch to seal the edge (brush the edge with a little water if necessary to make it stick.) Pour caramel sauce into the bottom of a lightly greased 9" x 13" x 2" pan, and sprinkle with the remaining ¾ cup of nuts. Cut dough crosswise into 12 rolls and place, cut side down, into the prepared pan. Cover and let rise for 45 to 60 minutes, or until nearly doubled. Place pan on a jellyroll pan to catch and drips, and bake in a preheated 375 degrees F. oven for 30 to 35 minutes. Invert onto serving plate while still warm.

Notes
---I cannot make these rolls often enough for my students. Once when I was mixing the filling, one of the alumni, Jason "Fabs" Fabish, looked at the bowl of sugar and butter and nuts for the filling and exclaimed in a whisper, "Ohhhhhhhh---nutty goodness!" We have called them "Fabs' Nutty Goodness" ever since.
---When you first mix the dough, it will seem much too moist and sticky, but the 10 minute rest really does make it firm up. If the weather is extremely humid and your kitchen isn't air-conditioned, you may add up to another ½ cup of flour during mixing, but no more.