Deer Poop Candy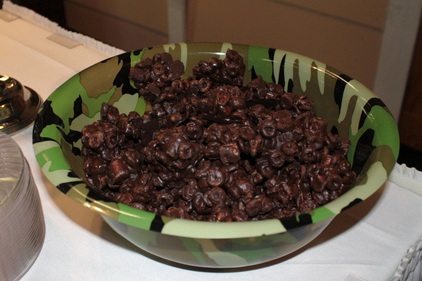 2 Pkg. (24 oz.) Wilton's Dark Cocoa Candy Melts
1/4 cup peanut butter
4 cups Cheerios (Dulce de Leche or Honey Nut)
1-1/2 cups of honey roasted peanuts
1-1/2 cups mini-marshmallows






In a large sauce pan, melt candy melts and peanut butter over low heat, stirring constantly until smooth. Remove from heat. Using a wide rubber spatula, gently fold in Cheerios and peanuts until well coated. Allow mixture to cool slightly (5 to 10 minutes) before folding in marshmallows (they should remain whole rather than melting) until everything is evenly coated in chocolate. Drop by tablespoons onto parchment or wax paper. Allow to harden for two hours before storing in an airtight container.

---