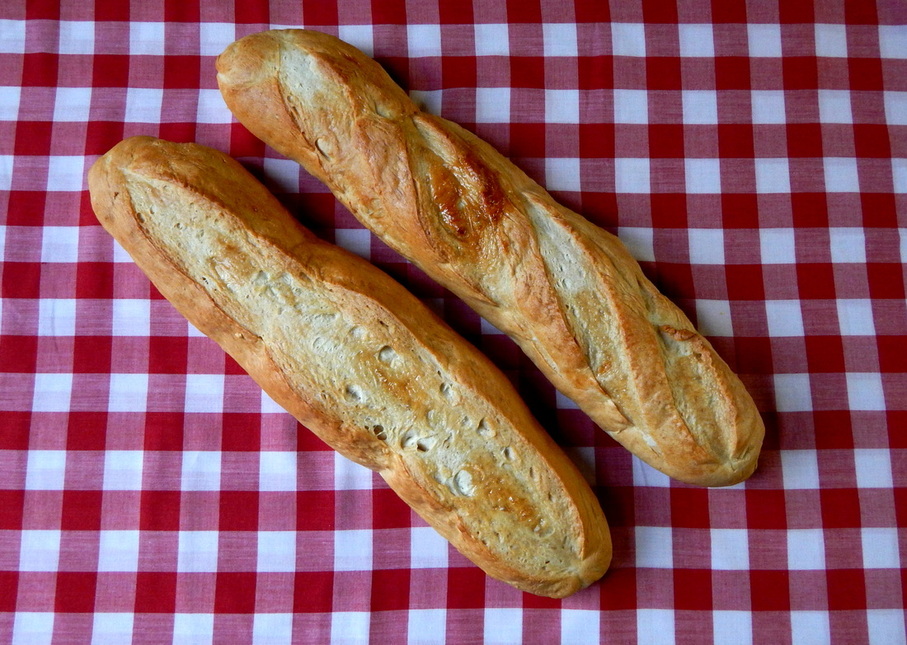 CUBAN BREAD
3 pkg. active dry yeast
4 tsp. brown sugar
2 cups warm water
1 Tbs. salt
5 to 6 cups bread flour, divided
egg wash (1 egg white mixed with 1 Tbs. water)

In a medium size bowl, combine yeast, sugar, and water along with 2 cups of flour and beat well. Allow to develop for 10 minutes, then stir in salt. Add remaining flour, about a cup at a time, until a stiff dough forms. Turn out onto a lightly floured board and knead for 8 to 10 minutes, adding more flour as needed to keep dough manageable. Dough should be smooth, elastic, and not sticky. Oil the surface of the dough and place in the rinsed bowl; cover and let rise until doubled in bulk, 45 to 60 minutes. Punch the dough down, knead lightly, and form into long loaves. Place loaves on a baking sheet sprinkled with cornmeal. Let rise, uncovered, for 15 minutes. Using a sharp knife or razor blade, slash the tops of the loaves diagonally 3 or 4 times, or put one continuous slash down the middle if you want a slightly flatter bread for sandwiches. Brush the loaves with the egg wash and place on the middle shelf of a COLD oven. On the bottom shelf, place a shallow pan into which ¾ cup of hot water has been poured. Turn oven on to 400 degrees and bake for 35 to 45 minutes or until well browned and loaves sound hollow when tapped. Cool on racks.


---