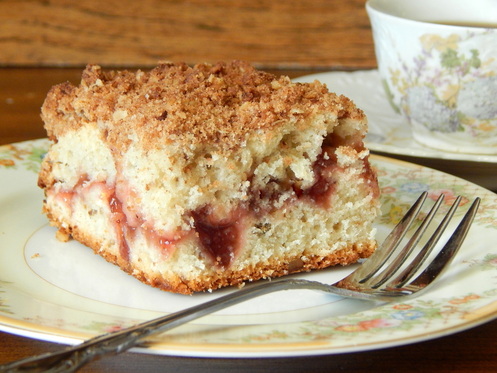 Coffee Cake Exceptionale

¾ cup butter
1½ cups of sugar
3 eggs
1 ½ teaspoon vanilla extract
1 ½ cups sour cream or Greek yogurt
3 cups flour
1 ½ teaspoons baking powder
½ teaspoon baking soda
¼ teaspoon salt

Filling
¾ cup brown sugar
½ cup chopped nuts
1½ teaspoons ground cinnamon

Cream butter and sugar in mixer on high until light and fluffy. Blend in eggs and vanilla until smooth. Sift dry ingredients together. With the mixer on low speed, alternate adding the sour cream and the dry ingredients until all is blended. Grease and flour a 9″ x 11″ pan. Layer half of the batter in the pan, then half of the filling, then another layer of batter. Sprinkle the rest of the filling on top. Bake in a pre-heated 350° F. for 60 minutes, or until a toothpick inserted in the center comes out clean. May be served warm or cold.

This is the version (slightly adapted) I received from some friends in their extended-family cookbook—thank you, Kathy Miller of Norway, Iowa! I have made lots of variations on this recipe with regard to the filling. I've used pie filling of various flavors, fresh fruit tossed with powdered sugar and cinnamon, fig preserves and golden raisins, and chopped dates with pecans, just to name a few. My creations have always been devoured by brother monks, so don't be afraid to experiment! You can add a streusel topping as well.


---