Bolo Rei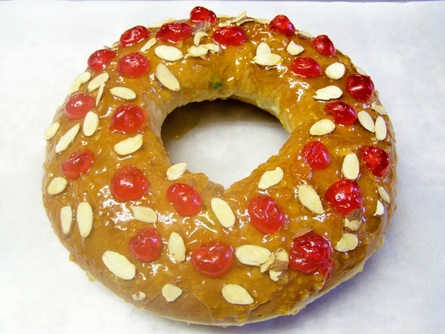 Bolo Rei is a Portuguese bread traditionally served on Epiphany. A bean is baked inside the ring, and whoever finds it is King or Queen for the day. The formation of the ring is not all that difficult, and if your first attempt is a bit lopsided, don't be put off: your family will gladly devour it anyway! The recipe is below, along with a series of photos to show you the shaping technique.
---
1 pkg. active dry yeast
¾ cup lukewarm milk
1 cup (2 sticks) butter, softened
1 cup sugar
2 large eggs, room temperature
½ tsp. salt
3½ cups all purpose flour, divided
½ cup candied orange peel
½ cup candied lemon peel
½ cup sliced almonds
1 large dried bean
½ cup apricot preserves
2 Tbs. orange juice
10-12 glazed candied cherry halves
Extra sliced almonds for topping

​Sprinkle yeast in the warm milk with a pinch of the sugar; stir to dissolve and let stand until foamy. Add sugar, melted butter, eggs, and salt and stir until thoroughly mixed. Add 3 cups of the flour, one cup at a time, stirring after each addition until flour is thoroughly incorporated.


Turn the dough out into a lightly floured board and knead for 6 minutes, using small amounts of the remaining flour to keep the dough manageable. The dough will be quite soft and rather sticky, but resist adding too much flour or the bread will be dry. Flatten the dough into an oval, place the candied fruit and nuts on top, roll up into a ball, and knead until the fruits and nuts are evenly distributed.


Place the dough into the rinsed bowl and cover with a clean dry towel. Let rise until doubled in bulk, about 60 to 90 minutes. Punch dough down and knead briefly to expel the large air bubbles. Insert the bean into the dough and shape the dough into a ring. Place the ring on a lightly greased baking sheet and cover with a clean, dry towel. Let rise again until nearly doubled, 30 to 45 minutes.


While bread is rising, preheat oven to 350°. Bake the ring for 30 minutes, or until golden brown and the loaf sounds hollow when tapped on the bottom. Remove from pan and cool on a wire rack.


Just before serving, make the glaze by combining the apricot preserves and orange juice in a small saucepan and warming over heat until liquid. Brush the tops and the sides of the ring with the glaze, decorate with cherries and sliced almonds, and serve.