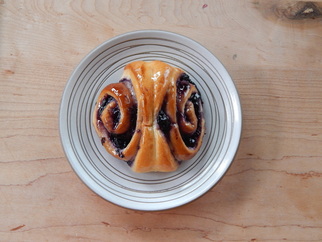 Use this filling for coffee cakes and sweet breads---you can use fresh or frozen berries.

Blueberry filling
2 cups blueberries (frozen OK)
1 Tbs. lemon juice
1 tsp. lemon zest
1/2 cup granulated sugar
2 Tbs. cornstarch

Directions
Place berries into a saucepan over medium heat. Heat until they start to release their juices, then mash with a wooden spoon or potato masher. Bring mixture to a simmer for about 10 minutes, stirring often to keep it from scorching. Stir in lemon juice and zest.

Whisk the sugar and cornstarch together in a small bowl. A couple of tablespoons at a time, sprinkle the sugar mixture into the hot berries and juice, stirring constantly. Return to low heat and cook for three to five minutes, until the filling has thickened. Remove from heat and cool before using.


---