Apple Spice Cake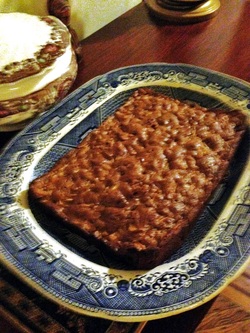 Photo and cake by Mary Anne Walsh
2 large eggs
1 cup canola oil
1/2 cup milk
1 cup white sugar
1/2 cup brown sugar
2 1/2 cups whole wheat pastry flour
2 tsp. ground cinnamon
1/4 tsp. mace or nutmeg
1½ tsp. baking powder
1/2 tsp. salt
1 tsp. vanilla extract
4 cups diced apple (without peel)
1 cup chopped nuts (walnuts or pecans)
Preheat oven to 350 degrees.
In a small bowl, beat eggs, oil, vanilla and milk together until blended. In a larger mixing bowl, sift
together sugars, flour, cinnamon, nutmeg, baking powder and salt. Add the egg mixture and mix well.
Stir in the apples and nuts. Pour batter into a lightly greased 9 x 13 inch cake pan. Bake for 40 to 45
minutes. Cool cake in pan for 15 minutes before cutting.
Makes 16 to 24 servings

Notes
--This spicy apple cake is the perfect way to warm up a chilly kitchen in late autumn. I developed
this recipe one autumn day because our abbey orchard was producing some exquisite Lura Red apples, which
are my favorite apple for baking or eating. Any firm, slightly tart apple will do, such as Granny Smith or
Northern Spy—ask your grocer for advice. Other recipes of this size use 1 cup each of white and brown sugar, but I think that much sugar overwhelms the apple flavor, so I reduced it. If you prefer,
you can substitute raw sugar, which is less processed than white sugar but has the same sweetening power.

--I used organic whole wheat pastry flour because I prefer it to all- purpose white flour for this recipe. Pastry flour is made from softer wheat than all-purpose flour or bread flour, so it makes lighter cakes and piecrust.
But the whole wheat gives the cake a heartier flavor and texture, so it's a perfect choice for this recipe.
In a pinch, any organic wheat flour will do, but your results will vary. I also recommend finding the freshest
cinnamon you can find, one with a high percentage of oil. When my friend Stephanie gave me bottles
of three different gourmet cinnamons, and my monastic community really noticed the difference in my baking. This cake is excellent served warm, but also keeps well and can be baked a day ahead of time for a special
dinner or potluck.


---