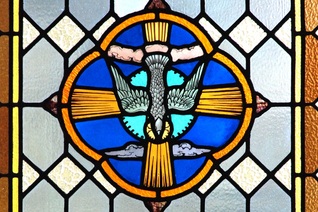 Likewise, the Spirit helps us in our weakess; for we do not know how to pray as we ought, but that very Spirit intercedes with sighs too deep for words."

Romans 8:26

I'm not sure if this has anything to do directly with diabetes, but I do know that this verse is a comfort on those days when I am so overwhelmed that I can't even think what to pray about, let alone what words to say. It's similar to days when I am feeling some deep, nameless emotion and am casting about in my memory or my iPod for a song to express it adequately. I guess the emotion most often would be called "longing": longing to be made whole, to be loved, to be fully known and accepted by another, to become the person I am meant to be ---"sighs too deep for words" indeed.

Sometimes that longing is sad and empty, and sometimes it's joyful and bursting at the seams, and sometimes it's both at the same time. Or to change the analogy, the emotional rollercoaster we ride as diabetics could use a better safety bar! My point here is this: if you are struggling with your diabetic self-care and don't know how to pray about it, this text remnds us that as baptized Christians we have received the gift of the Holy Spirit, who prays within us in a language our heart understands, even when our head can't make sense of it.


Let us pray for one another in our Lenten journey.