This post doesn't have anything to do directly with diabetes, but I wanted to have someplace to share my reflections with my Breadheads and others.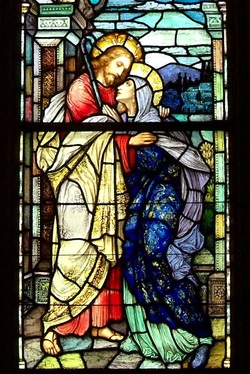 It's that time of year when parents are saying goodbye to their children as they head off to college, the military, or careers. Facebook is awash with pictures of packed cars, new dorm rooms, the first apartment, and the bus to boot camp. It can be a difficult time for parents, sometimes for mothers especially, or so I've gathered from various social media.

Most people rarely think about it since it's not explicitly in the Scriptures, but Jesus and his mother Mary went through the same experience. The image to the left is of a stained glass window in St. Patrick's Church, Arlington IL. It depicts Jesus taking leave of his mother just before he begins his public ministry. I hadn't ever seen this image anywhere else, in stained glass or any other medium, until I searched online and found a few paintings. It's beautiful in full length view, but when you look up close you appreciate the artist's true genius.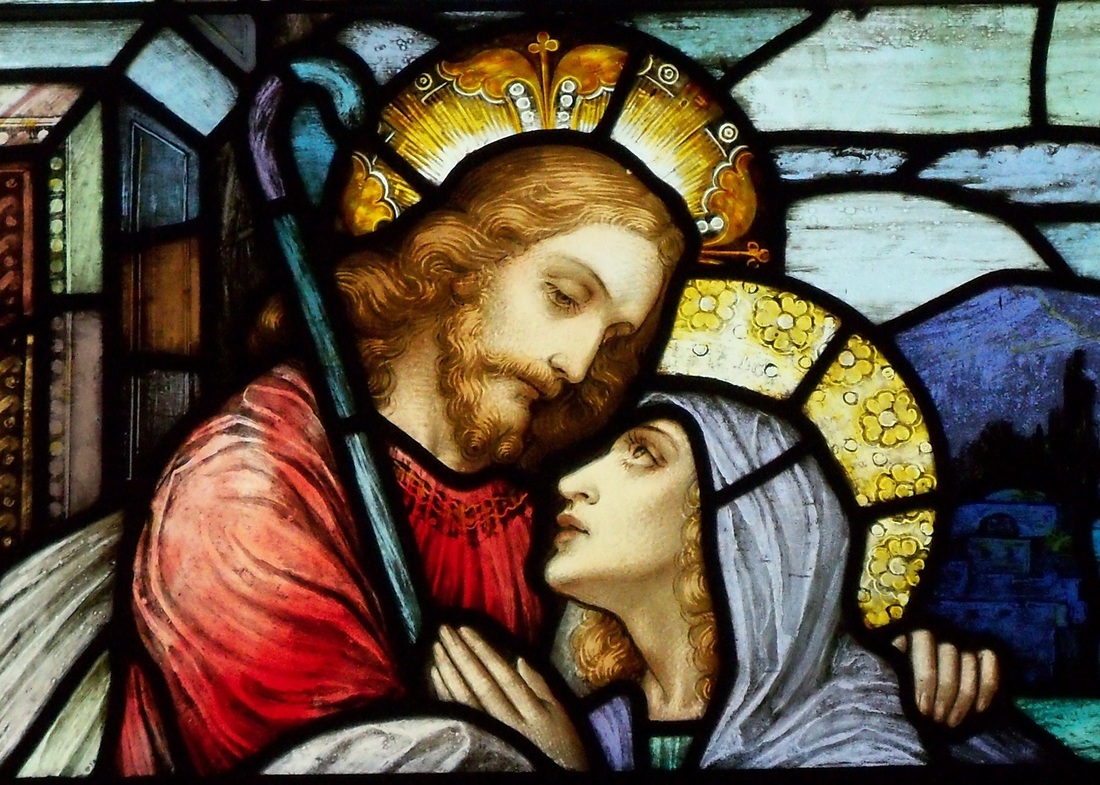 The detail on the halos, their clothing and hair is quite remarkable, but what I love best of all are the expressions on their faces. Mary wears the expression that mothers have worn for millennia as they said farewell to their children. You can see that she is thinking, "My darling son, do you have to go?" but she says nothing because she knows he must. Jesus looks upon his mother with great tenderness and a little sadness. One of my students commented that he looks like he's trying not to cry.

This window was made in an era when artisans were sent as young apprentices to live with their masters. I have no doubt in my mind that the artist captured the expression on Mary's face so perfectly because he had seen it on the face of his own mother. When my own mother sent me off to college she wrote me a note that I treasured, then as now. She quoted Kahlil Gibrain's The Prophet:

Your children are not your children.
They are the sons and daughters of Life's longing for itself.
They come through you but not from you,
And though they are with you yet they belong not to you.

You may give them your love but not your thoughts,
For they have their own thoughts.
You may house their bodies but not their souls,
For their souls dwell in the house of tomorrow,
which you cannot visit, not even in your dreams.
You may strive to be like them,
but seek not to make them like you.
For life goes not backward nor tarries with yesterday.

You are the bows from which your children
as living arrows are sent forth.
The archer sees the mark upon the path of the infinite,
and He bends you with His might
that His arrows may go swift and far.
Let your bending in the archer's hand be for gladness;
For even as He loves the arrow that flies,
so He loves also the bow that is stable.

At the bottom of the page, she wrote: "Now is your time to fly."


Be assured of my prayers for all those going out into the world for the first time,
and for those whom they leave at home.