On Saturday of this week I'll be doing a big pizza event for the Knights of Columbus in St. Peters MO, and I have a gourmet pizza and wine pairing event at Immaculate Conception Parish in Morris Illinois next month (click on "Upcoming Events" above for more info). Whenever I have such an event, it's usually necessary to par-bake crusts ahead of time, that is, to form the crusts and partially bake them, so the crusts are stable but not fully baked. Without a commercial dough sheeter, it's too hard to create enough fresh crusts to serve everyone at once. The crusts are stored in the fridge or freezer until needed. The next time you make homemade pizza, make a little extra dough and then par-bake a few crusts for the freezer. Here's how:
A par-baked crust is made with the same dough as other pizzas, although a more moist dough tends to keep from drying out in the process, so you may want to increase the water in your recipe slightly. Since the crusts are essentially baked twice, a wet dough helps prevent an overly dry crust.
Start by preheating the oven to 350 degrees with a pizza stone in the middle rack. Form the crust as usual, whether by rolling it out or simply stretching out with your fingers. Place the crusts on a peel lightly dusted with cornmeal. To ensure a consistent interior texture, some pizzerias "dock" their dough at this point, that is, they pierce it all over with a fork or a specially designed tool called a "docker". This step isn't necessary if you don't mind a few air pockets in the crust. A little tip: when I dock a crust, I use the points on a plastic pasta server.
Brush the top of the dough all over lightly with olive oil and allow to rest for 10 minutes. Then bake on the pizza stone for 7 to 10 minutes, or until the dough just beginning to brown VERY lightly in a few high spots. Remove from the stone and slide onto a cooling rack. If large air bubbles form on the crust while it's in the oven, pierce them with a fork and deflate them. When the crust is completely cool, double wrap in plastic wrap and place in the freezer. Par-bakes may be stored for up to 3 months, but mine never last that long!
To use, unwrap the crust and let it thaw for at least 15 minutes before adding toppings. Then bake as usual. The crust will be crispier than with fresh dough, but you may find that you prefer that. I like a par-baked crust when I'm making a pizza with a lot of toppings, like a supreme or a meat lovers, because it holds up better. And as I've said above, using par-bakes is also a great way to serve a lot of pizzas in a hurry. Using a combination of fresh and par-baked crusts, two culinary students and I once made 54 pizzas in an hour and a half for a fundraiser. You can even put the toppings on your crusts and double wrap them in plastic wrap for the freezer. However, I recommend a light coating of cooking spray on the crust before your sauce goes on, to keep it from getting soggy in storage.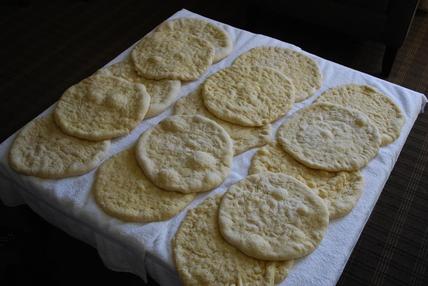 Par baked crusts cooling on a coffee table in my room at the Chase Park Plaza, when I was preparing to give a pizza demo at the Rep's Food and Wine Show a few years ago. The demo area had only a glorified toaster oven, so it was easier to do the prep in my room, which had a small kitchen in it. The hallway smelled amazing, and some of the other guests wondered who was having a party in their room!