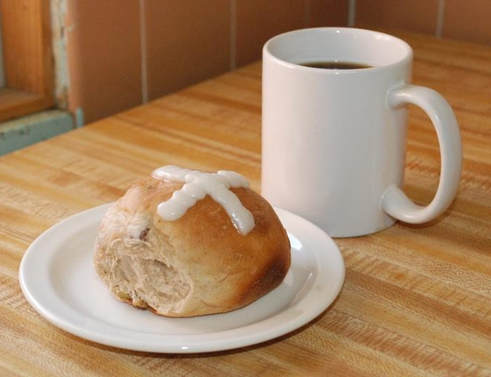 HOT

CROSS

BUNS



4 to 4½ cups white bread flour 1/4 cup sugar
½ cup whole wheat flour 1 1/4 tsp. salt
1 pkg. of fast-rising yeast 1 cup milk
1 tsp. cinnamon ½ cup of butter
1/4 tsp. nutmeg 2 beaten eggs
3/4 cup raisins

Put yeast, spices, salt and sugar in a mixing bowl with whole wheat flour and 2 cups of bread flour and stir until thoroughly blended. Warm milk in a saucepan with butter over low heat until butter melts; cool mixture to just above lukewarm (120° to 130°). Add milk mixture to the dry ingredients and beat for 200 strokes. Add the eggs and mix until well blended. Stir in the raisins. About a half a cup at a time, add two more cups of bread flour and mix until it is incorporated. Turn dough out onto a floured board and knead lightly adding enough of the remaining flour to make a soft dough. Knead for about five minutes, until the dough is smooth and elastic. Rub the surface of the dough lightly with oil or butter, and place back in the rinsed bowl. Cover and let rise in a warm place free of drafts until doubled, about 1 to 1½ hours.

Punch dough down and put onto a floured board; knead lightly to remove air bubbles. Divide into 12 pieces and form bun shapes, tucking sides under to avoid spreading. Place buns on a lightly greased cookie sheet, and cover with a towel to let rise for about 45 minutes to an hour. Preheat oven to 375° F. When buns have risen to nearly double in size, use a sharp knife or razor blade to mark a deep cross in each. Bake for 15 to 20 minutes. Remove the buns from the pan and place them on a wire rack. Allow to cool for 15 minutes, then brush on the glaze. Serve warm.

Glaze: 3/4 cup of powdered sugar, 2 Tbs. milk, 1 Tbs. melted butter, 1/4 tsp. vanilla. Beat until smooth. Use a pastry brush to apply the glaze to the still-warm buns. You may also add more powdered sugar to make a thicker frosting to pipe a cross on the top of each bun.

Notes:
--I dislike the look of store-bought hot cross buns with yellow frosting piped on top, but my fellow monks like the sweetness. So I compromise with white frosting. The traditional Irish form is made with a cross cut in the top of the bun, a custom going back to pagan times.
---These sweet buns can be made with currents or dried cherries as well.
--My community likes these so much I have to make them three times a year: for Ash Wednesday, Good Friday and the Seventh Sunday of Easter. I'm just imitating my Irish grandma Tootsie (maiden name McNulty) who made them several times a year for my Austrian grandfather.
---