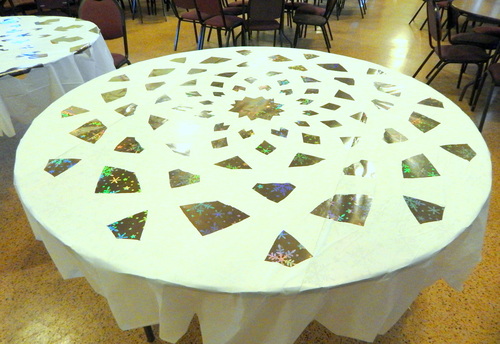 Here's an idea for your holiday entertaining: make a snowflake tablecloth. I made these for a winter-themed pizza party, but they would be a great addition to a "Frozen" themed birthday party, Christmas, hannukah, etc. The tables I used were 5' across.
It's actually two layers. First, cover the top of the table with metallic or holographic wrapping paper. It can be in any color, but silver, gold and metallic blue look especially lovely. Tape the wrapping paper to the table with small lengths of double-stick tape on the underside. Next, take a white round plastic tablecloth and fold it in half, to get a semi circle. Then fold it into thirds (you get a fat "piece of pie" shape), then in half again (a thinner pie shape)---be sure to keep the edges even as you go. Fold it in half one more time to get a shape like the thin sliver of pie you cut when you are on a diet. Use very sharp pair of scissors to cut shapes out of both sides of the wedge, leaving the last 12" of the wide end uncut, so you have a clean overhang. Unfold the round and arrange it over the wrapping paper.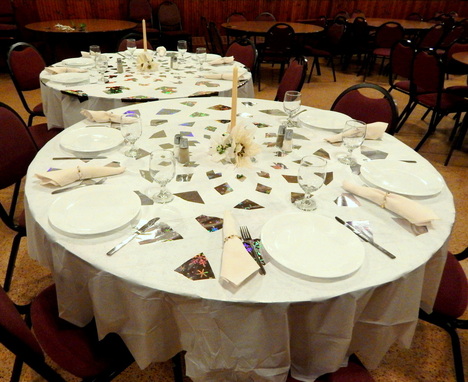 These are not the best photos (should have used a flash, I suspect) but you get the idea. Keep your eyes open for inexpensive metallic wrapping paper--I got mine at Big Lots--and buy more than you think you'll need, unless you are unusually good at math and geometry and can calculate exact amounts! The round plastic table-cloths are available at most Family Dollar Stores, or at a wedding rental place. You might buy a couple extra in the case the first one doesn't turn out.