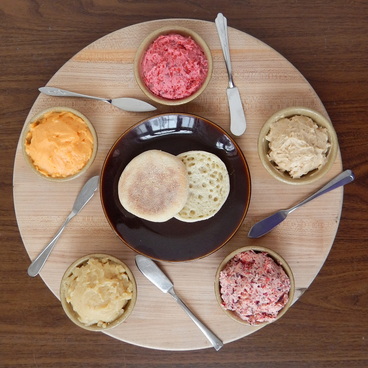 It's been awhile since I posted, for which I apologize--been busy with the cookbook and, up until November 14th, our fall theatre production of one act plays. My part of the cookbook is nearly finished, Deo gratias, except for a few more photos, some introductory material, and a handful of recipes. Several weeks ago I was in "The Scone Zone" but this weekend I spent a morning mixing compound butters. I think I have a new food obsession!

Compound butters are simply mixtures of butter with other ingredients or flavorings. They can be sweet or savory, and are used to enhance the flavor of everything from morning toast to midnight snack and everything in between. Many savory compound butters are used as a topping for steak, including such French classics as such as beurre à la bourguignonne (garlic and parsley butter) or beurre Maitre d'Hotel (butter with parsley and lemon juice). I've been making savory herb butters for years using the fruits of our labors in the abbey garden and apiary, but I decided to expand my repertoire into sweet butters for the new cookbook. The pictures are above, the recipes below.

Note: For savory butters involving herbs, garlic and cheeses, I use salted butter. For sweet butters, I recommend using unsalted butter and adding just a pinch of salt to enhance the flavors.

Clockwise, from top

Raspberry Walnut Butter:
1 stick unsalted butter, softened
¼ cup raspberries, lightly mashed
1 tablespoon honey
¼ cup toasted walnuts, chopped (optional)
Mix this by hand, not with a food processor, or the raspberries will become liquified. The crunch of the walnuts is a welcome addition, especially when this butter is served on a warm bagel.

Brown Sugar Spice Butter
1 stick unsalted butter, softened
2 tablespoon brown sugar
½ teaspoon pure vanilla extract
½ teaspoon Chinese five spice
Be sure you make this well in advance, so the brown sugar can dissolve completely in the butter, best achieved with an electric mixer or small food-processor. The Chinese five spice usually includes fennel and star anise, along with cinnamon, pepper and cloves, so it has a spicy flavor with licorice overtones. It's delicious on a toasted English muffin.

Cranberry Citrus Butter
1 cup fresh cranberries
2 sticks unsalted butter, softened
zest and juice of half a medium orange or lime
¼ cup chopped toasted pecans
honey to taste
This butter has a flavor profile similar to the classic fresh cranberry salad, although using lime instead of orange gives it a deliciously tart twist. Try this on a plain dinner roll or croissant.

Honey Coriander Butter
1 stick unsalted butter
¼ cup honey
1 teaspoon ground coriander
A good introduction to coriander, the seed of the cilantro plant but with a very different flavor: spicy with a citrusy undertone. I love this on top of cornbread or Irish soda bread.

Honey Siracha butter
1 stick unsalted butter, softened
1 tablespoon honey
1 teaspoons Siracha
pinch of salt
Sweet and hot in an increasingly popular flavor combination, and this butter is an easy way to add it to your culinary experimentation. Spread this over toast and top it with a poached egg. You can add more siracha to taste, and consider adding a little orange or lemon zest for another layer of flavor.