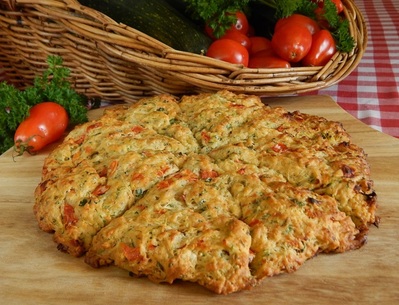 Fall has arrived and the garden is winding down. The last of the tomatoes are in and the flowers beds are looking a little worn out, exhausted even. But the herb garden is as lively as ever, so I decided to capitalize on the bounty to make tomato basil scones. This breakfast book has me in "The Scone Zone" lately. My first attempt was the zucchini tomato scones pictured to the left, which had a savory aroma and flavor, but the zucchini was so wet that the scones were doughy and a bit heavy.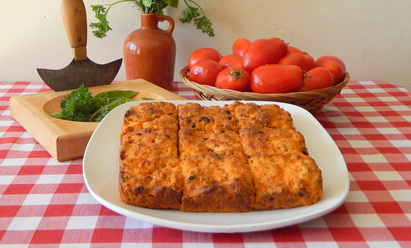 My second try, minus the zucchini, was much more satisfying, and I love the deep orange-y salmon color. Because decent tomatoes are in short supply most of the year, I used canned crushed tomatoes for the liquid and and sun dried tomatoes for a burst of flavor. Fresh herbs are a bonus but dried will do. It may seem odd to use an 8 x 8-inch pan for scones, but it makes the soft dough easier to manage and produces neat portions.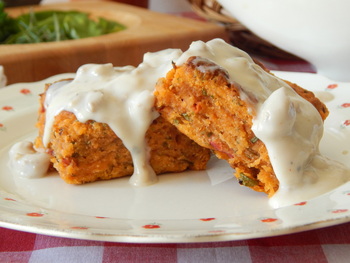 These scones are delicious by themselves, or with a little garlic butter, or next to a bowl of Italian Wedding Soup, but smothered in Italian sausage gravy they raise breakfast to a whole new level. Any sausage gravy recipe will do (
HERE
's a good one) but use Italian bulk sausage--the sweet/hot variety makes an especially scrumptious gravy that pairs well with the tomato and herbal flavors.
I still have some other scone recipes to test, the most interesting being a tropical treat made with coconut yogurt, dried pineapples and dried mango. A savory recipe with ham and smoked Gouda is in the works as well. Stay tuned!

God bless and happy baking!