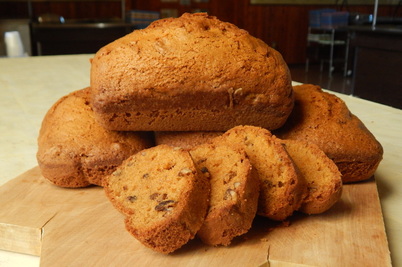 Although yeast breads are my specialty, I do enjoy making quick breads or batter breads, meaning breads that are leavened with baking powder or baking soda (or a combination of both) and therefore take less time than yeast breads. Scones, muffins, biscuits, waffles, pancakes and cornbread all fall into this category, so many of them are served at breakfast, brunch, or tea time. My new cookbook Breadhead Breakfast Treats will feature quite a few batter breads, since I have a supernatural love thing for anything that can be served with maple syrup and Irish Breakfast tea.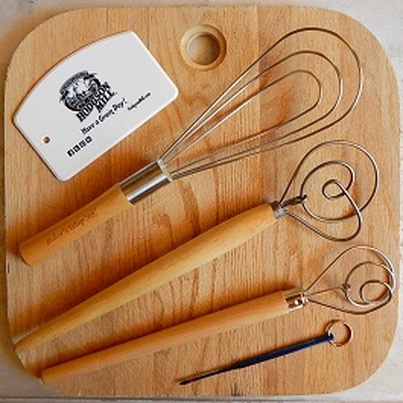 You can mix batter breads with nothing more than a bowl and a wooden spoon, but over the years I've found a few other utensils that make the process a little easier. I find that the plastic scraper in the upper left is handier than a rubber spatula for getting batter out of a bowl, plus it can be used to divide pizza dough and clean a counter top. Hodgson Mill sometimes gives them away free at demos (I usually have an ample supply at my demos) but you can get them at a lot of cooking stores for less than a dollar.
The three whisks pictured here are all made by different companies but serve the same purpose. They're all sturdier than most wire whisks and can mix batter breads faster and with less effort than with a wooden spoon. Since batter breads--especially muffins--can become dense and gummy when overmixed, it could be worth it to invest in one if you bake batter breads often. The top whisk is made by
Best Manufacturing
of Portland OR, the same company that makes my favorite
flour duster
and is a new addition to their catalog.* It's a little big for a single batch of pancakes, but if you mix larger batches of batter breads for Christmas gift giving, it's worth getting. I used it to make a double batch of zucchini bread this week and found it to be a great help, and easier to clean than a
brotpiskar
or dough whisk, which is what the next two tools are.
Brotpiskars
are a Scandinavian invention (Danish or Swedish, depending on whom you talk to!) and are also for mixing batter breads and even yeast doughs. They come in two sizes, usually 14" and 11". The larger one in the photo is one my mom bought for me in 1979, and it's mixed hundreds if not thousands batches of dough. They are available from several distributors, including Amazon, King Arthur Flour and Fox Run. The smaller one was imported from Poland, and is available from Saint Bede Abbey's own
Monks' Market
website.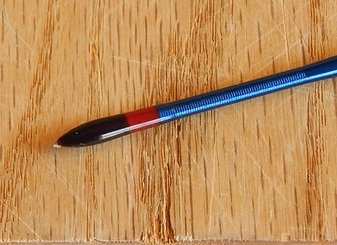 The small tool at the bottom of the photo is a heat-sensitive cake tester, manufactured by
Nordic Ware
. You insert the probe into your batter bread and wait a few seconds. The tip turns red when the cake or bread is done. (Please note that the cake tester is not for yeast breads, which finish baking at a lower temperature.) I know I can use a toothpick or a piece of uncooked spaghetti to test, but I saw this in a restaurant supply store for less than $5, so I decided I needed it! I appreciate having it when I have altered a recipe or used a different size of pan than the recipe calls for, so I'm less sure of baking times.
Since I posted a blog recently about
owning too many tools
, I'm hesitant to encourage more spending on utensils. But if you enjoy baking and do it often, you may find these mixers worth keeping in the drawer. I must confess, sometimes having the right tool encourages me to bake a particular recipe more often. Besides, none of the people who enjoy the results of my baking obsession have ever complained about the clutter!
God bless and happy baking!


*Full disclosure: Best Manufacturing sent me a sample of this "Baker's Whisk"--I received no additional compensation or benefit and all opinions expressed here are my own.