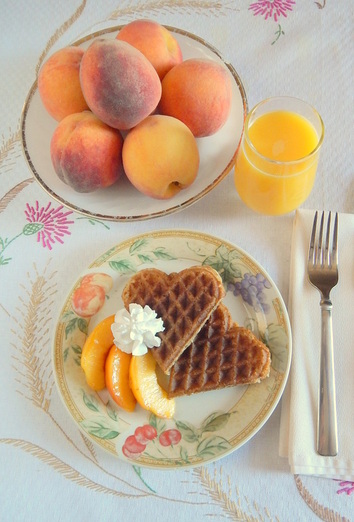 Day #41


Overnight Multi-grain Waffles


Haven't been doing much with the new cookbook lately, and for a few hours yesterday I thought it would be necessary to cancel or at least postpone the project. I had been told that I was going to be teaching an additional class at the Academy first semester, one with a new book in a subject I hadn't taught before. Anyone with experience teaching a new class knows that it means a daily extra hour or two of work writing lesson plans, finding resources, creating and grading assignments. So I figured that meant the book project would have to be put on hold. But my informant was, it turns out, misinformed. I decided to celebrate my narrow escape by making multigrain waffles.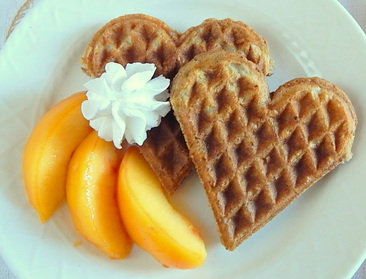 I like just about any breakfast recipe you can start the night before, and these flavorful waffles are among my favorites. Although the recipe I'm sharing uses fast-rising yeast, I usually make these heart-healthy treats with sourdough starter, but that's a recipe for another cookbook! The brethren gobble them up, especially our Br. Luke, who recommends that you pair them with fresh fruit instead of syrup. If you can't bear to wait until the next day to enjoy them, let the batter rise for at least one hour, then proceed as directed.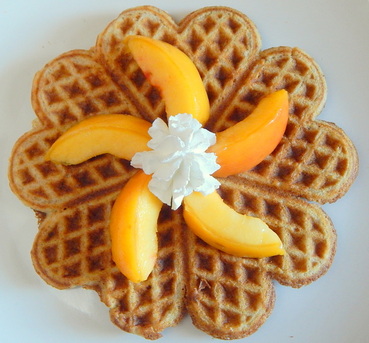 ---Don't feel restricted to the flours named in the recipe. You could replace the rye with amaranth flour (a high protein grain first grown by the Aztecs) or the whole wheat with spelt or kamut (similar tasting ancient grains with less gluten). Try miller's bran or rolled oats instead of wheat germ, or crush some granola for a unique crunch. Whenever using flours other than all-purpose white, you may find you need to add a little more milk to make the batter pourable, since some grains absorb liquid faster than others. You can even make these waffles gluten-free with a GF baking mix (Hodgson Mill makes a good one) or any all-purpose GF flour, but don't use malt syrup.

Here's the recipe I used, originally published in More Breaking Bread with Father Dominic:

Overnight Multi-grain Waffles
1 pkg. fast rising yeast
1½ cups all purpose flour
¼ cup whole wheat flour
¼ cup rye flour
2 Tbs. wheat germ
1 tsp. salt
1½ cups milk
1 Tbs. malt syrup, dark corn syrup, or molasses
1 Tbs. vegetable oil
2 eggs
2 tsp. vanilla extract

Combine yeast, flours, wheat germ, and salt in a medium size bowl and stir until thoroughly blended. In a separate container, combine milk, syrup and oil and heat to 120 degrees F. Pour into dry ingredients and stir until batter is smooth. Cover the bowl with plastic and place in a cool place overnight (it could be the refrigerator, but a counter in an air-conditioned room will do). In the morning, stir batter down. Add eggs and vanilla and beat until thoroughly incorporated. If the batter seems a bit stiff, stir in a couple of tablespoons of milk at a time until it flows freely. Preheat waffle iron and use batter according to manufacturer's instructions.

National Waffle Day is August 24, the anniversary of the patenting of the first U.S. waffle iron invented by Cornelius Swarthout of Troy, New York. Get yours out fire it up for some multi-grain goodness.

God bless and happy baking!