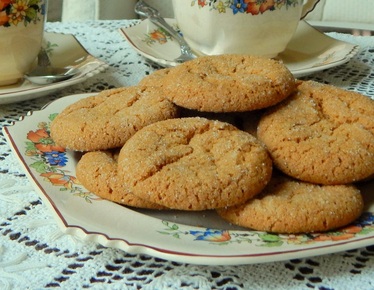 My food photography work for the
Simply Divine Bakery
continues. This morning I shot ginger snaps using antique china from our Abbot Lawrence's family. Ginger snaps are such an old-fashioned cookie that I thought vintage was the was to go. The crochet tablecloth is actually a remnant of a larger cloth that was badly damaged, but a relatively intact corner of it can be used for close-ups.
Speaking of close-ups, this afternoon I switched to lemon cookies, and I had a bit of an epiphany as I reviewed the images I got. Two are posted below. Photo #1 is more artistic, with dramatic shadows and curved lines. Photo #2, however, is the one that you want for marketing, because it has a greater emphasis on the product, the cookies. The first photo says, "Look what a good photographer I am!" and the second says, "Look how yummy these cookies are!"
I'm almost entirely self-taught as a photographer, so I try to learn something new with every project. Today's lesson: when you are calculating how to photograph food, remove yourself from the equation. Next up, butter mint cookies. This time I think I'm going to shoot from directly above . . .but then again, who knows what I'll do ?