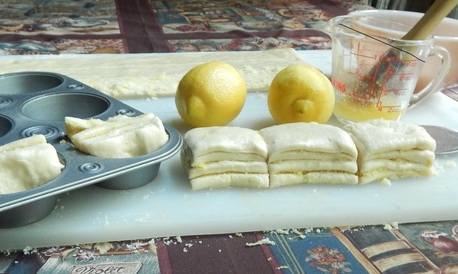 Day #4


Lemon Fantans
Recently I gave a talk on yeasted coffeecakes in Effingham, Illinois (obviously with this book project in mind), and I made a pull-apart lemon breakfast bread that was a big hit. I got the original recipe from
Leite's Culinaria
, another fine website worth exploring. The pull-apart shape seemed a bit awkward for the breakfast table, so I decided to adapt it based on one of my favorite dinner rolls: butter fantans.
Butter fantans are an old-fashioned roll you don't see much anymore, in part because they are difficult to manufacture in large batches. As you can see from the photo, you have to roll the dough out, cut it into strips, stack them, cut them into sections, and place into muffin tins. If you want the directions for making butter fantan dinner rolls click
HERE
.
One of the trickiest parts of making these rolls is getting the amount of butter between the layers just right. Too much, and the sections fall apart as you take them out of the pan; too little, and the sections don't pull apart. In the case of lemon fantans, the butter combines with the sugared filling in the heat of the oven and makes a delectable, gooey syrup. There's lemon zest in the sugar and lemon juice in the icing, so the fresh flavor bursts in your mouth with every bite. And if you are cutting back on refined sugar these days (and we all should) you can serve these warm out of the oven without icing and no-one would complain. The delicate flavor pairs nicely with Formosa Oolong tea.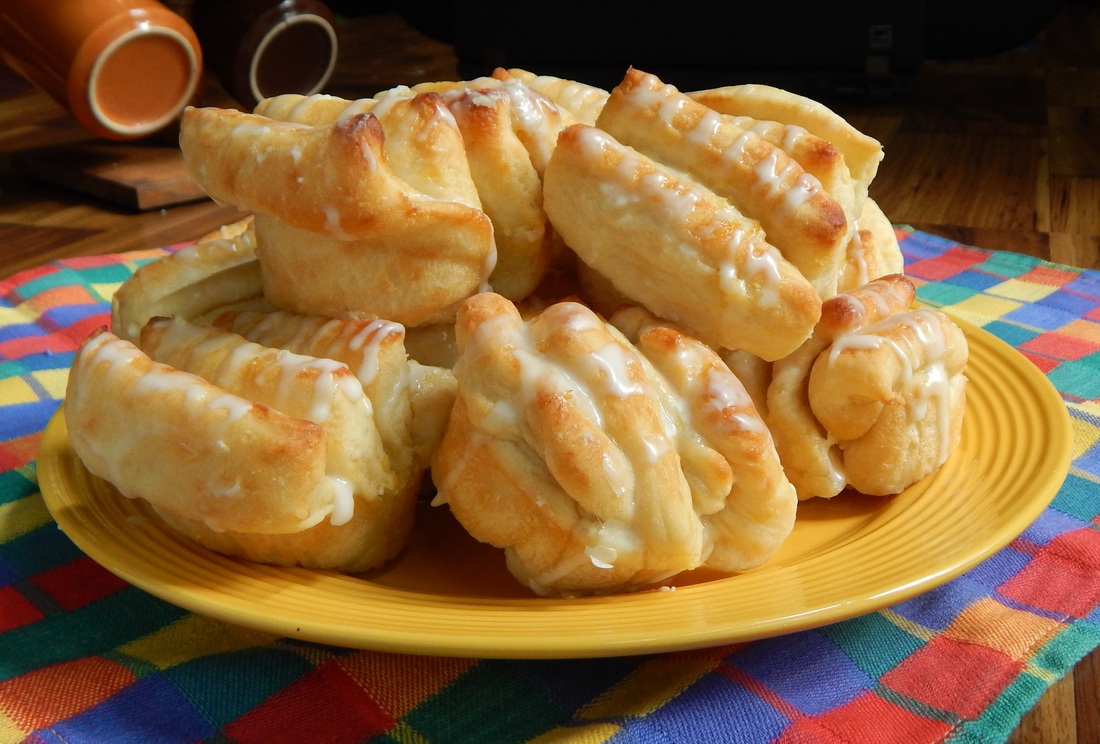 To make these rolls you have to trim the dough into a perfect rectangle, so there are a few scraps of dough leftover. I used mine to make a couple of hamburger buns for a Sloppy Joes lunch tomorrow. My week at the cabin is flying by, so tonight I'm relaxing on the patio with iced tea and the Cardinals versus the White Sox game on the radio.


God bless and happy baking!