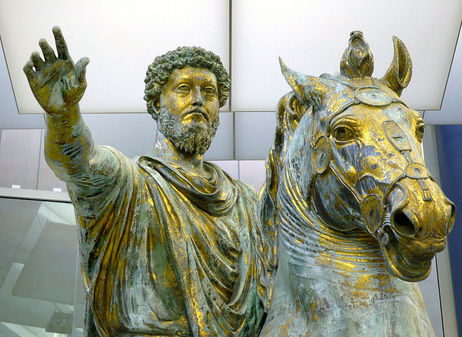 Recently I started reading the
Meditations
of Marcus Aurelius, Roman emperor and Stoic philosopher. You might wonder what value there might be in such a project; you'll find a thoughtful blog
HERE
written by an Oxford professor about the
Meditations'
relevance today. For myself I offer no explanation other than it seemed to me that a well educated person should have read them at some point, especially someone like me who minored in Philosophy.
Surprisingly, my scholarly reading intersected with my passion for baking yesterday. I have been experimenting with various forms of yeasted coffee cakes, and decided to use my
Best Ever Crescent Roll Dough
, which I consider the gold standard for soft rolls and anything sweet. The dough, however, proved to be a little too soft and sticky; I had trouble rolling it out evenly and it developed several tears in the course of my making a chocolate-filled babka (click
HERE
for the recipe that was my inspiration). But I trudged on undaunted by the mess on the counter, my sticky hands, and the lopsided twist in the Bundt pan before me.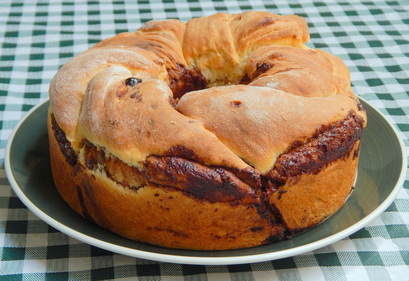 The result, however, was surprisingly appealing. In fact, I would argue that its attraction is based on its imperfections: the unevenly-sized twists, the long split that reveals the chocolate filling inside, even the lopsided profile all contribute to what I would not hesitate to call a truly beautiful loaf. Anyone who passed by as it sat cooling on the counter remarked on how attractive the babka was, how the open side revealing the filling made it more so.

Marcus Aurelius, as it turns out, would agree. That very morning I had read the following passage:
[W]hen bread is baked some parts are split at the surface, and these parts which thus open, and have a certain fashion contrary to the purpose of the baker's art, are beautiful in a manner, and in a peculiar way excite a desire for eating. And again, figs, when they are quite ripe, gape open; and in the ripe olives the very circumstance of their being near to rottenness adds a peculiar beauty to the fruit. And the ears of corn bending down, and the lion's eyebrows, and the foam which flows from the mouth of wild boars, and many other things- though they are far from being beautiful, if a man should examine them severally- still, because they are consequent upon the things which are formed by nature, help to adorn them, and they please the mind . . .
Meditations Book III, section 2
There is much to be admired in Marcus Aurelius' character and his writings, but I'm especially drawn by the fact that the most powerful man in the Roman empire of the 2nd century noticed the details of the baker's art, the graceful arch of the bending corn, and the regal structure of the lion's brow. Many of his reflections stress the need to live an intentional life, that no action should be without an aim, no choice be made thoughtlessly. A little something to ponder the next time you select a muffin from the case at Starbuck's, or sit down to enjoy a slice of homemade coffee cake.