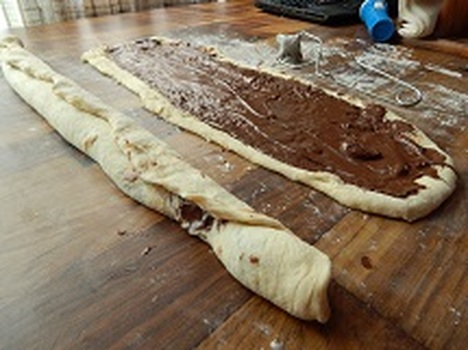 Day #2
Fine Tuning
,
The new cookbook is going to have a number of coffee cakes made with the same basic yeasted dough, a variation on my
Best Ever Crescent Rolls
dough. That recipe produces a soft dough which results in a tender crumb, but it's a little tricky to handle for braiding and some other kinds of shaping---notice the tear in the side of the rolled up dough pictured above, which I made yesterday morning. That sort of fussy dough can be problematic for beginning bakers and even for those with more experience. So I need to fine tune the recipe a little more.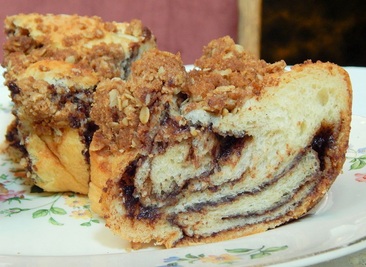 I don't want to suggest that I'm not satisfied with the results---this Nutella-filled babka with a streusel topping turned out just fine. But it was a tad frustrating to handle and I did utter a few words that a monk ought not to use. So I'll try another batch rtomorrow with a little less liquid and see what I get.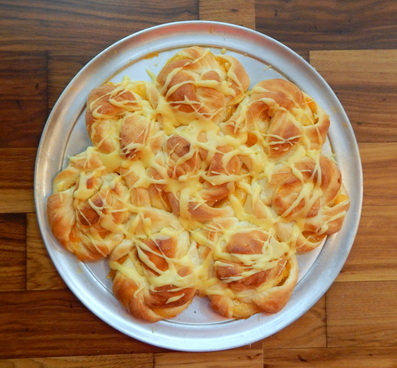 The other recipe I made was
Apricot Blossoms
, which I used to call Apricot Daisy Coffee Cake, until I realized it doesn't resemble a daisy as all. The filling is pastry filling and the icing is made with powdered sugar, orange zest and juice. It's baked on a 16" pizza pan, although you could make a pair of smaller ones with a couple of 12" pans. The secretaries in the Lake Thunderbird club house office preferred these over the chocolate babka, much to my surprise.
Later in the afternoon, I did something I don't do at home very often---almost never during the school year---I took a nap. Ahhh, summer!