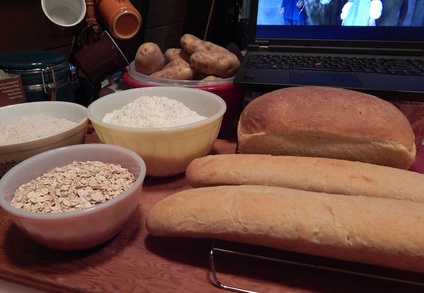 Day 1:
Choosing Recipes
I'm settled at our little cabin at Lake Thunderbird for a week of relaxation, watching movies, and testing recipes. Abbot Philip's parents, God rest their generous souls, gave the community this cabin after it got to be too much for them to take care of. All of my books since
Bake and Be Blessed
(2001) have been either partially written or edited in this little retreat. For example, all the introductory chapters of
Thursday Night Pizza
(2010) were written here over the course of four days of energetic typing.
I spent most of yesterday morning shopping for groceries at the local Hyvee and the afternoon rummaging through the walk-in cooler at the abbey. Saturday night I spent baking several loaves of whole wheat bread to keep the community supplied in my absence. Now that I'm here and settled in, it feels like I've unloaded a truckload of utensils, but the cabin's kitchen is equipped for only the most basic cooking, although it does have a decent set of pots and pans thanks to my friends Brittany and John. At least I left a rolling pin and a pizza pan here!
One advantage to the cabin is that it has an ordinary consumer grade oven instead of the convection giants we have in our commercial-size abbey kitchen: I can really test the recipes so people can reproduce the results at home. The sink is a little small---it seems like I'm doing dishes the whole time I'm here---and the counter top feels a bit cramped. But with a laptop you can knead dough and watch a DVD at the same time (see photo above) and since there I didn't bring any bread, the first order of business was to mix up some multi-grain dough and bake sandwich bread and long loaves for hot dog buns.
Actually, most of the recipes for
Breadhead Breakfast Treats
have been made multiple times, but I haven't always gone to the trouble of writing down exact measurements, nor taken decent pictures. Unlike the kitchen of every other food blogger in the country, the abbey kitchen has little natural light and unnaturally ugly counter tops. Much of my baking is done at night when fluorescents are all that I've got, so I don't get many decent photos unless I set up my photo shoot the next day in another space.
The back wall of our little A-frame cabin, however, is almost
all
window, so there's good natural light for 10 to 12 hours a day, which is how long I intend to spend baking for the next five days or so.
I've been reviewing recipes for several days now, and I think I have the list narrowed down for the most part. (Sorry, not sharing the complete index just yet!) About half of them have appeared in the cookbooks from my TV series (no longer in print), but the rest have been developed since then. All of them are monk tested.
So how did I choose my recipes? I had about 70 possible on my original list, but that would make the book so large that there'd be a risk of pricing ourselves out of the market. My publisher (Josh Stevens of Reedy Press) said that about 40 recipes would make for just about the right size, once you include photos and accompanying notes. So I had to do some recipe triage, which I completed today, although there will probably be some tweaking along the way.
I've tried to choose breakfast breads that have been monastery or family favorites, or that got rave reviews from Breadheads over the years. I omitted anything that seemed obscure, overly complex, or commonplace (everyone has a banana bread recipe and there's nothing special about muffins, IMHO).
Although I like making breads with fresh ingredients whenever possible, I realize that scheduling time for baking is difficult in many households, so I'm making judicious use of prepared fillings which can be kept in the pantry for when the baking mood strikes or an afternoon suddenly opens up.
This week I'm concentrating on yeasted coffee cakes that use the same basic dough but are all shaped differently, with a variety of fillings.
As I'm typing this, a light rain is falling outside, but it looks like the fireflies are undeterred. One year they were so thick in the woods behind the counter, it looked like a movie set for a fairy tale. Hope I get some sun tomorrow for some good photos. Since we don't have Internet (or even a phone!) here at the cabin, once a day I'll be going to the lake association clubhouse to use the WiFi and post updates. Right now, t
ime for one last sink of dishes before bed.
God bless and happy baking!