Okay, I admit that this is not bread, but rice is a grain, so it's close!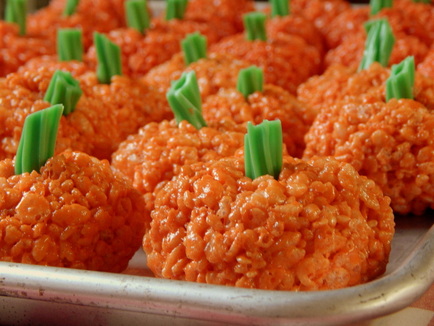 I saw a recipe for pumpkin-shaped Rice Krispie treats on Facebook and decided I needed to make them for the faculty here at the Academy. The original recipe called for stems made of Tootsie Roll minis, but I didn't like the dark brown look and searched for an alternative. Of course green apple Tootsie Roll minis are an option, but when I saw the ridges on a green apple Twizzler, I realized that I'd found the ideal candy stem for my Halloween treats. Here's the recipe and method I used.

Crispy Rice Pumpkin Treats
3 Tbs. butter
10 oz. package marshmallows
1 tsp. vanilla extract
red & yellow liquid food coloring OR orange food coloring gel
6 cups of rice cereal
3 green apple licorice (there are 4 or 5 in a package of Rainbow Twizzlers).

Cut Twizzlers into 8 pieces. Over medium heat, melt butter in a large pan with a handle. Add marshmallows and mix until melted and smooth. Stir in vanilla and food coloring (I used about 5 drops of red and four drops of yellow) and beat until smooth and uniform in color. Add in the cereal and mix well (a heavy wooden spoon helps) until cereal is uniformly coated. Remove from heat.

Spray your hands with cooking spray or coat lightly with butter so the mixture doesn't stick as you form it into balls. (I made mine about the size of a golf ball and got 16 in one batch, 18 in another). Use a knife to open a small slot in one end and insert the green Twizzler stem. Press ball tightly together and flatten slightly to achieve a more pumpkin-like shape. Allow them to set up until firm and then store in an air tight container.

These are great for Halloween of course, but I think you could serve them from now until Thanksgiving!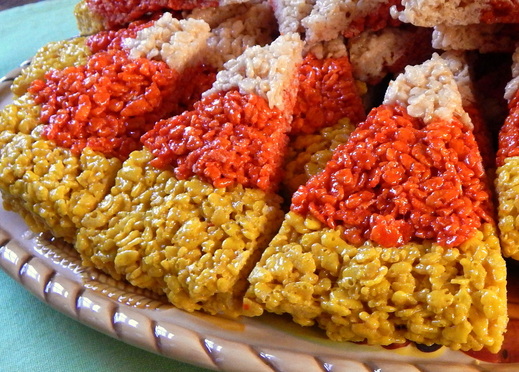 Here's another option for colored treats. It's easiest to make three batches--one yellow, one orange, and one plain--one at a time and add the layers in rough triangles, then trim to make more regular triangles. You get to eat the trimmed off bits! There's also quite a bit of the plain stuff left, so you can have some for the family if you're taking the good ones off to school or to a party.