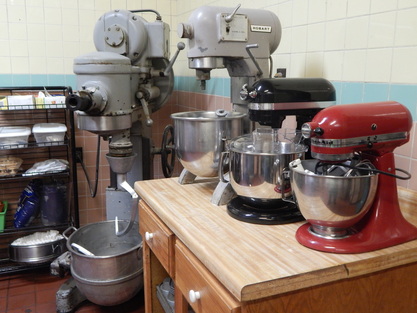 Thanks to my cousin Bob sending me the black beauty in the middle, I now have a pretty complete set of stand mixers. I can mix everything from one loaf up to about two dozen. It's like the Three Bears decided to shop at the appliance store. This weekend I was invited to a cookout by some dear friends and decided to christen the new model by making a batch of homemade hamburger buns, using a recipe from King Arthur Flour: you can find it
HERE
. The recipe makes 18 buns, using a little over three ounces of dough per bun.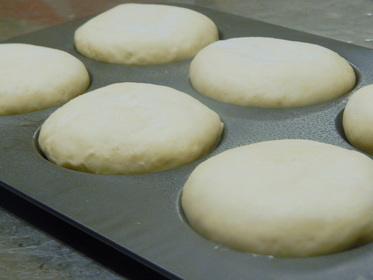 You don't have to have the special pans---they're a bit pricey, and I wouldn't have them if they hadn't been deeply discounted at my favorite kitchen store. The main thing is to shape the balls of dough as smoothly as possible, then flatten them to about 3" across. My video on how to shape perfectly round balls of dough might help: find it
HERE
.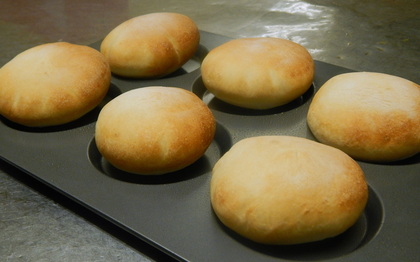 If I had left the dough a little wetter, a little more slack, I would have gotten rolls with flatter bottoms and they'd probably softer, too. But these were sturdy enough to hold up under the pressure of a burger piled high with toppings, so I have no complaints.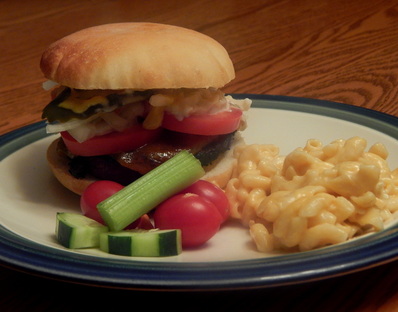 A burger with cheddar, tomato, onion, coleslaw and mustard, and crockpot mac and cheese. We had brownies for dessert--it was a meal made of comfort foods!

Next post I'll show off the appetizers I made with a shortcut croissant dough that's not as time-consuming as the traditional pastry dough, and better for you than the stuff that comes out of a tube.