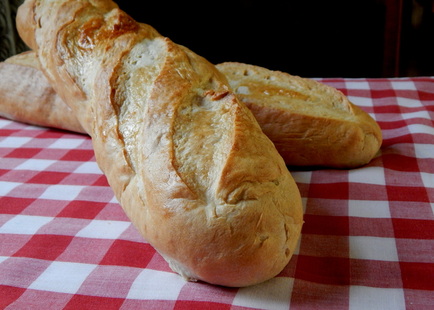 People often ask me about how to make loaves that are crispy and crusty on the outside and tender in the middle. There are a lot of different methods out there, often involving introducing steam into the oven during the baking process. I've had good success with Cuban Bread, which is just about the best base for a sub sandwich you could ever hope for, unless you can stop by
Avanti's
on your way to the market for meats and cheeses. Their bread isn't as crusty, but it's soft and slightly sweet and utterly delicious. But I digress.
I have seen several different versions of Cuban bread, including one that calls for four tablespoons of yeast (nearly 5 packages), which seems to me a little excessive. But they all have a few things in common: extra yeast, a large proportion of salt, a cold oven to start, and a pan of hot water to help develop the crust.
This is one of the few recipes that I would say really requires bread flour to be its best. All-purpose flour works OK but often produces a low loaf if not kneaded thoroughly.
One recipe I tested suggested brushing the loaves with cold water before they went into the oven. I did so, as gently as I could---and the loaves deflated, never to rise again. The taste was fine, but the loaves lacked the open-holed texture which characterizes "pan de cubana." I also discovered that ¾ cup of hot water in the bottom of the oven was just enough to achieve the perfect crust---most recipes don't specify the amount of water.
Notice the absence of oil or butter in the dough, which makes the bread crustier but also means that it won't keep long. I've seen recipes that include a little butter or oil (about a tablespoon) but I don't think it adds much. This bread is so good you won't have to worry much about leftovers. If you think you'll only use one loaf within a day, don't freeze the other---just give it away!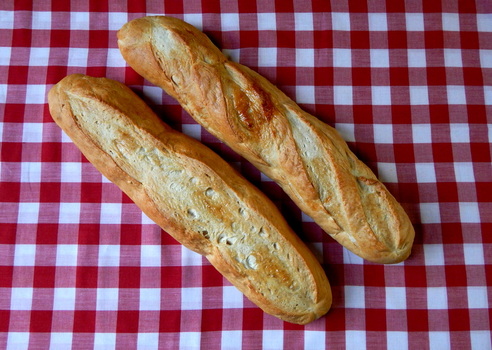 You'll find the recipe for Cuban Bread
HERE
. If you are pleased with your results, remember to send me a photo or two for the
Breadhead Gallery
.