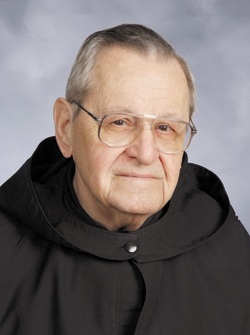 Our Father Henry passed away Sunday morning, at age 89. You can read his full obituary
HERE
. He had taught in the school and eventually served as principal from his ordination in 1952 until 1977. He then began a series of parish assignments until his retirement in 2012.
In his later years Fr. Henry suffered greatly from arthritis and a variety of other ailments, including some dental issues. So French or Italian loaves with an ultra-chewy crust were not his bread of choice. What he really loved was potato bread.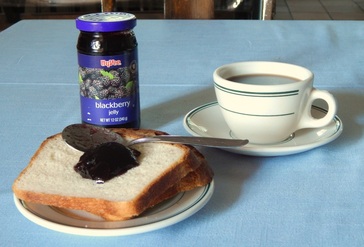 We get mashed potatoes at supper about once a week, and there are almost always leftovers, so I bake potato bread fairly often. The potatoes give the bread a soft crust with a tender crumb, and the dough works well for cinnamon swirl bread or dinner rolls, too. Fr. Henry liked potato bread for breakfast, slathered with blackberry jelly and dunked in his coffee. So last night I baked a dozen loaves of potato bread to serve at the dinner following his funeral this afternoon. It's my way of honoring his memory; I'm sure I'll think of him whenever I put out potato bread for breakfast. You can find my recipe
HERE
, but if you want to make it how Fr. Henry liked it, omit the seeds.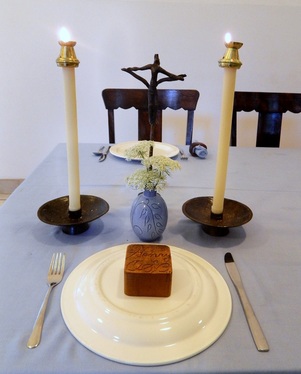 Another monastic custom at the death of a confrere is to continue to set his place at table for a month after his death. A cross and candles are placed there, with the plate upside down and his napkin holder on top. (Every monk has his own distinctive napkin holder---yes, we still use cloth napkins!---often one he made himself.) The custom is a reminder that although our brother is no longer present, we hope to join him at the table of the Eternal Wedding Feast, the Supper of the Lamb. For Fr. Henry's sake, I hope they serve potato bread.

On this mountain the LORD of hosts will provide for all peoples
A feast of rich food and choice wines,
juicy, rich food and pure, choice wines.
On this mountain he will destroy the veil that veils all peoples,
The web that is woven over all nations;
he will destroy death forever.
The Lord GOD will wipe away the tears from all faces;
The reproach of his people he will remove from the whole earth;
for the LORD has spoken.
On that day it will be said:
"Behold our God, to whom we looked to save us!
This is the LORD for whom we looked;
let us rejoice and be glad that he has saved us!


Isaiah 25:5-9