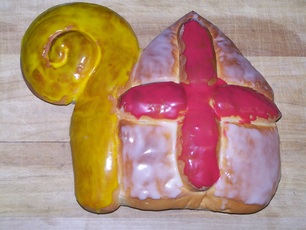 The feast of St. Nicholas is December 6, and there are plenty of baking traditions surrounding this popular saint. There are breads shaped like his miter and crosier (as seen to the left) or like his boots, "St. Nicholas Men" depicting the saint himself or similar to gingerbread men but made of yeasted sweet dough, large round loaves decorated with crosses or braids. And
cookies
---an astonishing array of spice cookies, most often shaped like the saint himself. You have to have special cutters, of course, and those can be a little hard to come by. However, there's a terrific website called "The Saint Nicholas Center" with page after page of St. Nicholas traditions, lore, activities and recipes, as well as cookie cutters and other St. Nicholas goodies for sale. It's too late to get them in time for this year (I should have written this post a week ago, but I was in the midst of baking 40 dozen dinner rolls for Thanksgiving!) but buy them now and make plans for next year. Click
HERE
to go to their website. You'll be clicking from link to link for hours.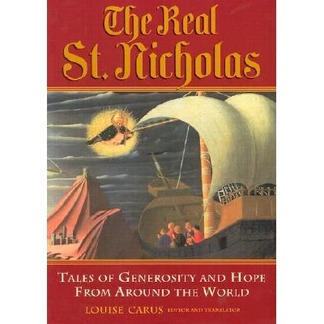 Another excellent resource is the book
The Real Saint Nicholas: Tales of Generosity and Hope from Around the World
by Louise Carus. The author, now deceased, was a dear friend of our Fr. Gabriel and used to bring us St. Nicholas Men as a treat on the saint's day. Check the book out on Amazon
HERE
.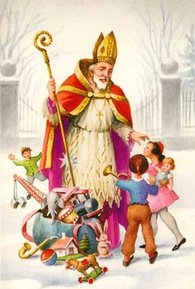 For a charming description of a visit from Saint Nicholas to a Dutch home in the late 1800's, see Mary Mapes Dodge's classic children's book
Hans Brinker or The Silver Skates
. It's available as a free download
HERE
, but if you can find a vintage copy of the book, it probably has wonderful illustrations. I received a copy of the book from my grandma Helen in the early 1960's and every few years I re-read it. It gives you an idea of what high-quality children's literature can be.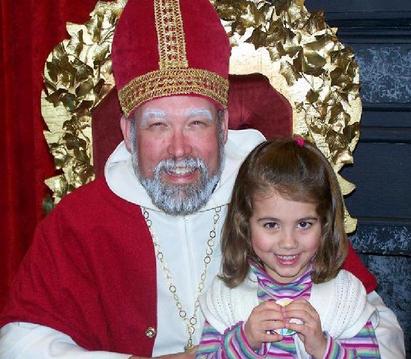 Lastly, I thought you might enjoy seeing me playing St. Nicholas at a parish fundraiser some years ago. It took me a couple of months to grow my beard that long, and I was grateful for my theatre background and its accompanying makeup and costuming skills---I had to make the miter!