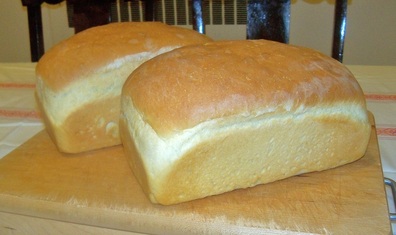 One of my favorite aspects of Thanksgiving in the monastery is what happens
after
the big meal at noon. The monks help tidy up the dining room, the kitchen crew puts food away, does dishes, cleans counters and then heads home to their families. Supper is soup and cold cut sandwiches.
Which means that I have the kitchen entirely to myself.
You may not realize what a big deal this is. In a house of 18 bachelors, there is always someone poking around the kitchen for a snack, always a kitchen worker cleaning up after the last meal or preparing the next one. And in spite of my gregarious nature, I love working alone in the kitchen, so the afternoons following a big holiday meal when everyone's too stuffed to snack, I get the luxury of a kitchen full of solitude.
On this particular afternoon, I decided to do something with the rice leftover from Tuesday's chicken creole. I ran it through the food processor with some hot water until it was a smooth paste and added it to a basic white bread recipe. The resulting loaves were 1) not as lofty and a little denser than usual; 2) slightly chewier; 3) really delicious warm with butter and honey. The enjoyment I got from the whole process prompted me to prayers of gratitude to God, and with a little reflection I realized just how many things I had to be thankful for, namely:
I grew up in a house where it was normal to learn to bake, and where creativity and experimentation were encouraged. I live in a house where my confreres offer me similar encouragement. Unlike most of the other people in this world, we serve meals where we have so much food that there are leftovers we have to do something with. I didn't have to wonder if there was enough flour, or where I would get the yeast, and there were literally dozens of pans to choose from. The counter top was clean and the correct height for kneading. I didn't have to chop and haul wood to heat my oven---I turned a knob, and there was fire. The house was warm enough for the bread to rise reliably, and I had no fear that someone would steal my bread if I left it unattended. When the bread was finished, the pans went into a dishwasher. I have a really good bread knife. The butter was fresh and two of my confreres worked hard all summer so ensure that there would be honey all winter.
I know there are still many more things for which I should be grateful, even within this single afternoon. It brought to mind the gospel from this morning's Mass, in which Jesus tells a man whom he has healed to "go home and tell your family all that God in his pity has done for you." In many homes, families have the tradition of going around the Thanksgiving table and having every person say something they are thankful for this year. But if we take the gospel seriously, we are called to tell others about all that God in his mercy has done for us. Surely to fulfill that divine command, we need more than a single meal or a single day, but rather must become people of thanks-living.