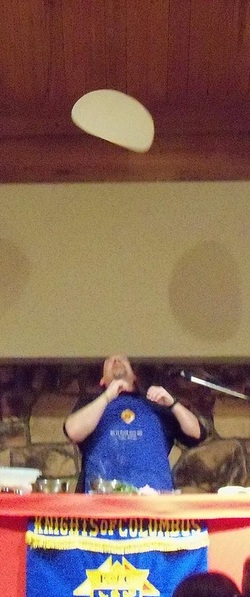 October is National Pizza Month and I've been posting daily #pizzatweets on Twitter (check the birdie icon in the upper right corner of this page to follow me) but I figured at least once of week I should post a recipe. So here's my "8 Minute Pizza Sauce" recipe from my book
Thursday Night Pizza
(click
HERE
to order a signed copy from the Saint Bede Abbey Press).
I start with crushed tomatoes, so that you get better tomato flavor, a trick I learned from Alton Brown. The red wine gives it some depth, and simmering for only three minutes ensures that you don't cook all the essential oils out of the herbs. If there 's any leftover sauce, use it to make bagel pizzas under the broiler for breakfast. You could also add a little more basil and garlic and some sauteed onion, and you'll have a single serving of pasta sauce to take to work.
Keep checking back for more pizza recipes this month.
God bless and happy baking!
8 Minute Pizza Sauce
1 15-oz. can of crushed tomatoes, undrained
¼ cup tomato paste (about half a six ounce can)
¼ cup red wine
2 small cloves of garlic, minced
3 Tbs. grated Parmesan
1 tsp. dried oregano
¼ tsp. dried basil
¼ tsp. black pepper
Salt to taste

In a medium sauce pan, heat tomatoes, paste and wine over medium high heat for 5 minutes, stirring constantly. Stir in the seasonings, turn heat down and simmer for 3 minutes. Remove from heat and cool to lukewarm before use. May be refrigerated for up to three days.