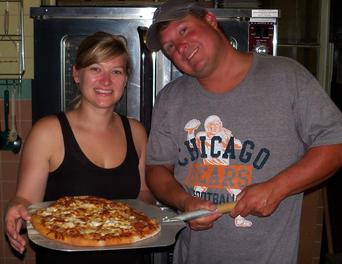 Eddie and Courtney are getting married in October and I'm the presider, so as I often do with marriage prep couples, I invited them out to make pizza with me. Little did I know (until I check my Twitter feed) that today was National Cheese Pizza Day! Here they are with the sausage and pepperoni masterpiece that Ed made (rolled AND tossed the dough), but we also made one of my favorite pizzas of all time, the Four Cheese Tomato Top.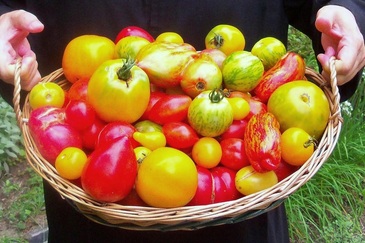 Our Fr. Ron grows a bountiful crop of heirloom tomatoes every year, with astonishingly diverse colors, shapes and flavors. I used some of the smaller ones to make my Bruschetta Topping Pizza (recipe
HERE
) and the rest were used on the Four Cheese Tomato Top Pizza pictured below.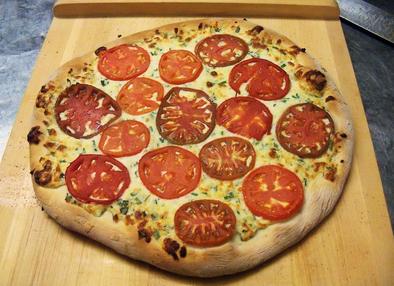 This photo hardly does it justice, but I didn't have time to set up a tripod and lighting, with a dozen hungry monks waiting at haustus upstairs! We pizzaolos did reserve a couple of pieces for ourselves and the flavor of these heirloom tomatoes really makes the dish special. I don't even attempt this pizza after the garden tomatoes are spent.
Here's a slightly better photo from last year. But I'm sure you are wondering what the cheese combo is. It's my variation on the classic quattro formaggi pizza:


6 oz. shredded mozzarella
4 oz. ricotta
2 oz. shredded provolone
2 oz. grated Romano
1 egg
½ tsp. nutmeg
¼ cup fresh snipped chives, garlic chives, or other Italian herbs

Mix thoroughly and spread evenly over a 12" to 14" thick crust, then top with tomatoes. I always bake mine on a preheated pizza stone at 500 degrees F. Don't wait until September 5th of next year---bake a Four Cheese Tomato Top Pizza this weekend!