The Stage Rats have a number of recipes they especially like---funnel cakes, donut holes made with refrigerator biscuits, caramel corn---but lately they've been bugging me about "deer poop". We always served this as a treat at theatre camp along with its counterpart "Fruit Poop" and the kids have been craving it, evidently.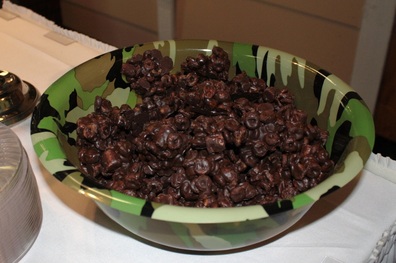 I actually posted this recipe and photo last year after my nephew's "redneck" wedding (see August 2012). The bride had a camo dress (which she rocked) and a camo cake, so deer poop in a camo bowl seemed like a nice contribution to the reception. Here's the recipe, in case you have a hunter in your family whose birthday is coming up.


2 Pkg. (24 oz.) Wilton's Dark Cocoa Candy Melts
1/4 cup peanut butter
4 cups Cheerios (Dulce de Leche or Honey Nut)
1-1/2 cups of honey roasted peanuts
1-1/2 cups mini-marshmallows


In a large sauce pan, melt candy melts and peanut butter over low heat, stirring constantly until smooth. Remove from heat. Using a wide rubber spatula, gently fold in Cheerios and peanuts until well coated. Allow mixture to cool slightly (5 to 10 minutes) before folding in marshmallows (they should remain whole rather than melting) until everything is evenly coated in chocolate. Drop by tablespoons onto parchment or wax paper. Allow to harden for two hours before storing in an airtight container.

Since last year, we've also made Deer Poop candy with Cap'n Crunch Peanut Butter cereal, which is round and looks even MORE like deer poop! I like the flavor of the Dulce de Leche Cheerios the best, but make it and decide for yourself.