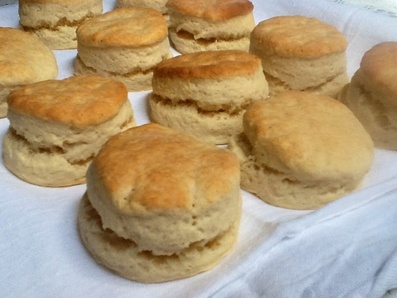 You might think from the title of this post that the recipe for these biscuits came from the WWII era, like Victory Gardens and the like. But in fact I have named these fluffy delights "Victory Biscuits" because up until today my efforts at biscuit making have been failures. Not quite "epic" failures (a word much overused) but not as successful as one might expect from someone had his own baking show and writes cookbooks exclusively about bread. I'll be honest, it's bothered me for years and I got discouraged enough to give up for awhile.

But I've been reading the books from the Taste of Home Annual series, and came across a whole wheat biscuit recipe that looked promising. I did a little tweaking, used only all-purpose flour, and got the results you see here. I made two batches for tomorrow's monk breakfast of biscuits and gravy. The addition of an egg and a little cream of tartar seems to make a big difference. I sampled one with the new honey from our apiary, just brought in and processed by our Br. David---heaven. I'll be sure to let my Breadhead readers know when the new honey is available for sale. In the meantime, make these biscuits and be victorious!

Victory Biscuits
3 cups all-purpose flour
4 teaspoons baking powder
1 tablespoon sugar
1/2 teaspoon cream of tartar
1/2 teaspoon salt
3/4 cup cold butter (1 1/2 sticks), cut into small pieces
1 egg
1 cup milk

Directions
In a bowl, combine flour, baking powder, cream of tartar, and salt;whisk until blended. Cut in butter with a pastry blender (the kind with blades rather than wires works best with cold butter) until the mixture resembles coarse crumbs. Combine egg and milk; stir into crumb mixture just until moistened. Turn onto a lightly floured surface and knead 10 times. Roll out (or just pat the dough with your hands, as I did) to 3/4 " thickness; cut with a 2-1/2-in. biscuit cutter---cut straight down, do not twist the cutter or you will seal the edges of the dough and they won't rise as well. Place on a greased baking sheet. Bake at 450° for 12 to 15 minutes or until golden brown. Yield: 1 dozen.