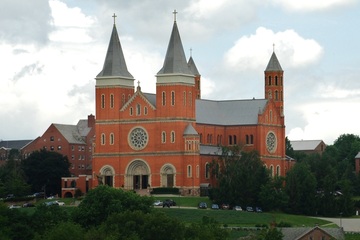 This is the basilica of St. Vincent Archabbey in Latrobe Pennsylvania, which is the motherhouse of all the monasteries of our congregation. The basilica is beautiful, with some wonderful old stained glass windows in the nave of the church and more modern ones in the crypt. The monastery guest quarters are very nice and the hospitality every bit as good as St. Benedict says it should be in the Rule. The archabbey has a college and a seminary, and is also home to the Fred Rogers Center, which house all of the archives from Mr. Roger's Neighborhood and the entire career of its creator. But of course, what I was most interested in was the St. Vincent Gristmill.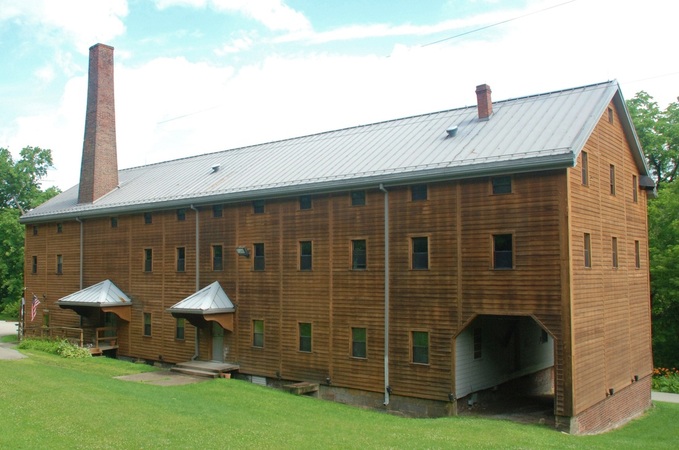 Boniface Wimmer and his eighteen pioneer monks came to Pennsylvania in 1846 with the intention of building a monastery which we be as self-sufficient as possible. Soon the community had cleared and planted fields, build a sawmill and a brickyard, and constructed a number of buildings, including the gristmill in 1854. Buhrstones were imported from France, the building and apparatus were designed by a local millwright, and the construction undertaken entirely by the monks themselves.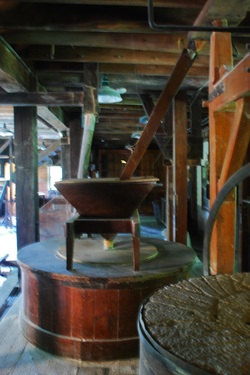 Visitors to the gristmill are not allowed in the upper two floors (although I'm hoping I can get a private tour some time!) but the lower floors include views of the secondary stones and some of the apparatus. There is a 10 minute video depicting the mill's history and its current operation (which I wish they would post in its entirety on their
YouTube Channel
)
as well as a small gift shop. About twice a week
they grind wheat and other grains, which are available for purchase. The apparatus still makes use of some of the original leather belts and wooden gears from 1854.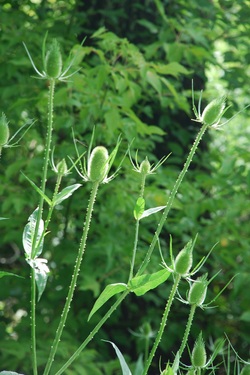 Another fascinating aspect of St. Vincent Gristmill is the wetlands reclamation project they have begun. The wetlands around the gristmill were seriously polluted by the local coal mining operations. In cooperation with the PA Department of Natural Resources, the monastic community instituted a wetlands reclamation program. Native plants were reintroduced and propagated to act as natural filters to purify the surrounding water and soil. There is also an environmental education room located within the gristmill itself.
I recommend the Archabbey and its gristmill as a fascinating combination of history and modernity---can't wait to go back again!