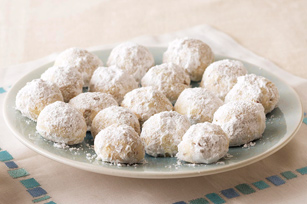 My mom recently injured her leg and has been hobbling around the house, ably assisted by my older sister Anj and my younger sister Eileen. I must confess to feeling guilty that I couldn't be there to help as well, so tomorrow I'm going to visit with a gift of Russian Tea Cakes. (The photo here is from the Kraft Foods website: link
HERE
.) These melt-in-your-mouth delights go by a variety of other names as well, most often Mexican Wedding Cakes or Snowball Cookies. They are ridiculously easy to prepare (just six ingredients) and are sure to become a family favorite if you don't already have them on your "must-bake" list.
There are lots of recipes out there with subtle variations regarding the amount of vanilla or the kind of nuts used, etc. I relied on good ol' Betty Crocker's version, which has a bit more vanilla and uses ground pecans (my mom's preference over walnuts or almonds). I've posted the recipe below, but HERE is the link to the actual web page. These cookies are popular at Christmas and you sometimes see them in the form of crescents; instructions and a photo can be found HERE.
I don't care what shape they are in, I could eat these sweet treats until I was violently ill and it would not be that bad. I said as much to some colleagues in the school office, which generated a discussion of favorite binge foods and the unhealthy behaviors they inspire in us. For one woman, it's chocolate cake: "I don't stop---I just eat it until it's gone." (I hasten to note that this woman's figure by no means suggests that she has
ever
eaten a
whole
cake!) Another person admitted that Frito's corn chips are his guilty pleasure: "Whole bag, gone before the commercial break."
As I diabetic, I can't really indulge in binge eating without some serious consequences, but if I had Wolverine's mutant healing factor, pancakes would be pretty high on my list, and I suspect I could take out a whole pan of warm cornbread if there were enough butter and honey in the house. But after rolling round butter cookies, still warm from the oven, in powdered sugar, I had to go to another floor of the monastery to force myself to leave them alone long enough to cool. Try this simple recipe and you'll find that these little goodies can wreak havoc on any dietary resolve.
MEXICAN WEDDING COOKIES
(From the Betty Crocker Website)

1/2 cup powdered sugar
1 cup butter or margarine, softened
2 teaspoons vanilla
2 cups all-purpose flour
1 cup finely chopped or ground almonds or pecans
1/4 teaspoon salt
3/4 cup powdered sugar

1
Heat oven to 325°F. In large bowl, beat 1/2 cup powdered sugar, the butter and vanilla with electric mixer on medium speed until light and fluffy. On low speed, beat in flour, almonds and salt until dough forms.

2
Shape dough into 1-inch balls. On ungreased cookie sheets, place balls 1 inch apart.

3
Bake 13 to 17 minutes or until set but not brown. Immediately remove from cookie sheets to cooling racks. Cool slightly, about 10 minutes.

4
Place 3/4 cup powdered sugar in small bowl. Roll cookies in powdered sugar. Cool completely, about 15 minutes. Roll in powdered sugar again. Cookies can be placed in an airtight container and freeze up to 3 weeks. Before serving, thaw the cookies and reroll them in powdered sugar.