I have a pizza party on Sunday, and I want to make something different for the appetizer course. In previous years I've done marinated olives, antipasti trays, Italian wedding soup and minstrone. This time I wanted a lighter soup more suitable for spring: chicken broth with a little vegeatble stock, ribbons of egg with Parmesan cheese, orechiette pasta and chopped green onion for garnish---egg drop soup, southern Italian style!
But what to serve on the side? Grissini? Too bland. Bruschetta? Old hat! Plain or garlic crostini? Ho-hum! Then as I was browsing on the
Splendid Table
website, I came across a reference to a flatbread made in Genoa called "farinata," made with chickpea flour. I liked the idea of something similar in shape to pizza, but with a different flavor and texture, so I started researching. As with many ethnic breads, there are hundreds of variations on farinata. It can be plain or flavored with onions, herbs, olives, and the like. It can be thin as a crepe or thick as a slice of bread, soft as a pancake or crisp as a cracker, cut into strips, squares or wedges, baked on a pizza pan or in a cast iron skillet.
There was no chickpea flour at my local supermarkets, so I bought a one pound bag of dried chickpeas and sent them through a tabletop mill and then sifted out the larger pieces to get a fine flour, about 2 1/2 cups. I mixed a cup of flour with 1 - 3/4 cups of water and left it overnight to thicken. Thius morning I put the pizza stone in the oven and turned the heat up to 500 degrees. After about 30 minutes, I put a 10-inch cast iron frying pan on the stone. In the meantime, I added a teaspoon each of salt and rubbed sage to my batter. Once the pan was thoroughly heated, and pulled it out of the oven and poured in about 2 tablespoons of olive oil and swirled it around then pan, then tossed in about a quarter cup of minced red onion. After it sizzled for about a minute, I gently added a cup of batter to the pan and put it back in the oven for 10 minutes. The directions in most recipes for farinata tell you to put it under the broiler for 2 minutes, but I don't have a broiler. So I browned the top by flipping the flatbread over in the pan and putting it back in the oven for another 2 minutes.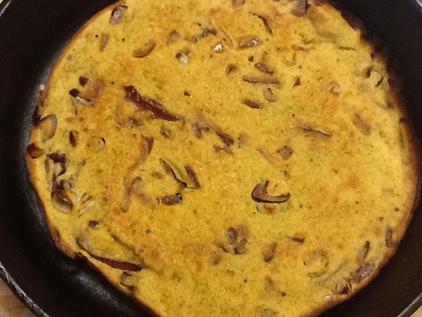 The result, as you can see, was a golden brown flatbread, tender in the middle and crisp on the edges, fragrant with sage and onion and begging to be dunked in chicken broth. I also made another one with the oven's convection blower on. It got burnt on the edges, but the crispy texture of the middle more than made up for that. You can bet I'll be experimenting with this new bread a LOT in the weeks to come, especially as the garlic chives, sage and oregano start sprouting.