K of C events went great last weekend, but I don't have any photos to show for it except the crew from the pizza night at Godfrey and the tables set up with the free goodie bags generously provided by Hodgson Mills. The other photo below is of me with the brothers from the OMI house of formation, which is where I spent the night---beautiful old house (1920's) built on a bluff overlooking the Mississippi.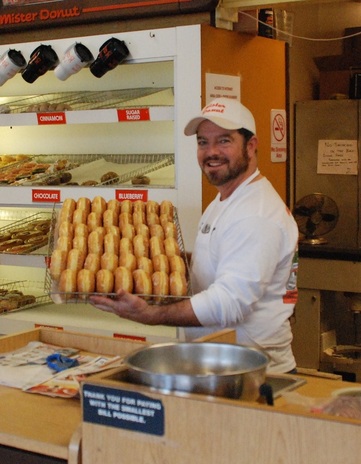 But on my way out of Godfrey on Sunday morning I took a wrong turn which turned out to be a right turn, because I turned up in the parking lot of the LAST MISTER DONUT IN THE UNITED STATES! Yes, and they still get the same Mister Donut coffee blend from a supplier in Massachusetts, which tastes just like the coffee I used to get on Sunday mornings along with an old-fashioned sour cream donut. The fellow in the picture is one Caesar Blanco, who bought the franchise in 2004. At that time most Mister Donuts had already been bought out by Duncan Donuts, and there were only 9 left in Illinois. Today, he says, his franchise is the very last one left in the U.S., although Mister Donut still has a very strong presence in Asia, especially Japan. (I should note that I don't have any independent verification of the "last Mister Donut" claim, and I'm not sure how I'd go about that anyway, but I can say that I haven't seen one for years.) If you have fond memories of Mister Donut coffee and their giant cinnamon rolls, or maybe want to try a newer product like the croissant with sausage, egg and cheese (I tried it and it's better than a lot of other fast food breakfast sandwiches, IMHO), I recommend you make a road trip to 2720A Grovelin St., Godfrey, IL 62035 (618) 466-6327. Worth it just for the notalgic smell of the place, especially when they're frying the cake donuts. Ask for Caesar and tell him Fr. Dom sent you!
Caesar says he got into the donut business right after retiring from the Navy in '93, and by doing so he was following in a noble tradition. Donuts were not always as universally popular (or common) as they are now. What made them so was the Salvation Army serving them to "doughboys" in WWI and the Red Cross serving them to GI's in WWII--the young ladies who served them were called "Donut Dollies". When the WWII vets returned home, many used their GI Bill grants to open donut shops. There used to be a donut shop in San Jose with a WWII museum attached to it that chronicled this little piece of Americana, but sadly, Lou's Living Donut Museum was closed in 2006 due to family illness. I don't know what happened to all the memorablia, but it certainly was a unique shop and I hope the displays were preserved somewhere.