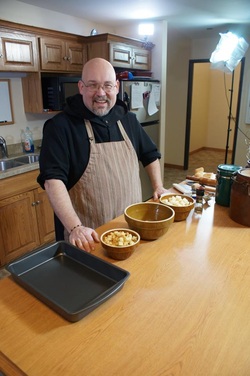 Over this Christmas break from school we made good use of the kitchen in the girls' boarding house and shot 29 one-minute instructional videos for the Home Baking Association. If you don't know anything about this organization, check out their website at
www.homebaking.org
. The organization is dedicated to advancing home baking by education in the home and the classroom. Their website includes loads of info, instructions, glossaries, recipes, tips and techniques---and pretty soon, my videos as well!
We call these short interstitials "Breadhead Minutes" and they are going to be broadcast on PBS, distributed by the HBA to home ec and culinary classrooms nationwide, posted on this website, and eventually have their own YouTube channel. I hope to be creating other video content for this website as well, since the school just gave every teacher an iPad. The Breadhead Minutes are actually only about 49 seconds once you add an intro, an outro and the sponsor roll-in, so theres not a lot of time to show anything in detail. So I'm hoping to make a few longer video segments to help Breadheads learn the basic of mixing and kneading and some of the finer points of shaping.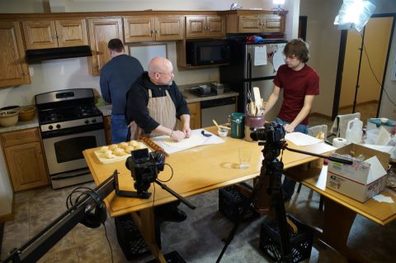 The videos were shot by Bill Streeter, the same videographer who shot the "How to Be a Breadhead" pledge special (still not released) and I really like working with him. His son Ainsley (in the red shirt)operated the B-roll camera. They're both very laid back and quite patient, even when the "Kinds of Yeast" segment took ELEVEN takes! That was on day one of the shoot and it was brutal---we only got 8 shot out of the 26 minimum we were contracted to do. I was both exhausted and discouraged at the end of the day, believe me.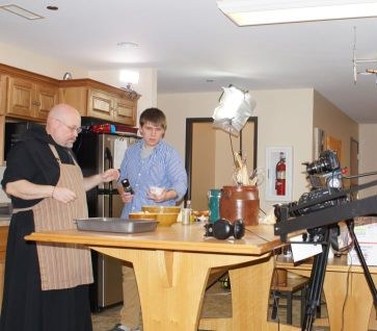 Day two, however, I had a lot more help, as my student and loyal Stage Rat Brandon came out to lend a hand. His assistance made a huge difference, and the second day we shot 21 segments in about 11 hours. Some of them were shot in a single take, and none of them took more than three tries. I actually had plans for as many as 34, so the HBA would have a lot to choose from for their 26 and I'd have extra content for my website. Nonetheless, I'm happy with the result, and I can't wait to see the finished products. Speaking of which, I should have a sample video posted here early next week. Eventually all these instructional videos will be collected on a single page of the website so Breadheads can work their way through a whole tutorial. Keep checking back here for updates!