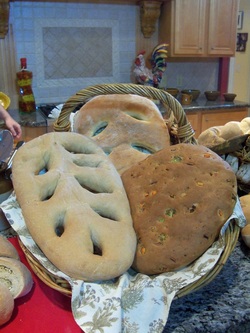 This past weekend I was in Jerseyville Illinois to present "Lessons from the Breads of Christmas" for the local HCE (click
here
for the page with the description of the program). They sold over 300 tickets to the event, so I was glad to have a projector and a good sized blank wall to be able to show photos of the various steps for the breads. I did a few live demos, too, including fougasse, the bread with the slashes in it, shown to the left. It's a traditional bread for Christmas Eve in Provence. Sometimes it has walnuts or raisins (or both) or it's made as a savory bread with onions or olives.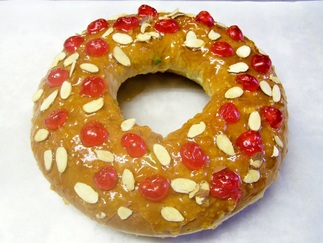 I also made Bolo Rei, the Portugese bread for Epiphany. It's a yeasted dough flavored with lemon and orange, topped with apricot preserves and orange marmalade, then studded with candied cherries and sliced almonds. Traditionally a bean is hidden inside, and the person who gets the slice with the bean is King or Queen for the day. I was lucky to have my kitchen angel Kevin along for the trip to hellp with prep.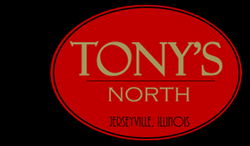 I after I celebrated the 5:30 p.m. Mass at Holy Ghost on Saturday night Kevin and I ate at
Tony's North
on State Street.
Best toasted ravs ever
, even better than what I've had on the Hill in STL. Kevin had a
perfectly
cooked ahi tuna steak, and I had the baked lasagna. (I've eaten there before and the pecan crusted chicken is excellent as well). The pecan caramel upsidedown apple pie serve hot with ice cream was easily big enough for two and utterly statisfying. Overall, excellent table service by our waitress, although we experienced a less than attentive hostess with our seating. I highly recommend this restaurant if you are every anywhere near Jerseyville at lunch or dinner.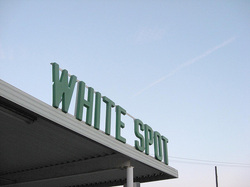 If you are in town around breakfast time, don't bother going anywhere but the White Spot, also on State Street, right by the Knights of Columbus. The omelets are cooked to perfection, without any browned eggs but a generous portion of fillings. We sat at the counter and watched the cook turn out four in a row, each of them flawless. Better than average coffee (for a diner), and I would say the same about the sausage, bacon and fried potatoes. Friendly service, too. I suspect they could turn out a decent lunch and dinner as well. The locals confirmed this, but I intend to test the theory myself if I get a chance---nothing like a good patty melt!