Br. Luke is bringing in about 20 pounds of tomatoes every day, so it's the time of year I start thinking about storing the harvest from my herb garden, which I generally do by canning them in the form of pizza sauce. (The only other herbs I store are fennel seed and hot peppers, which I dry and grind up for hot Italian sausage, but that's for another post).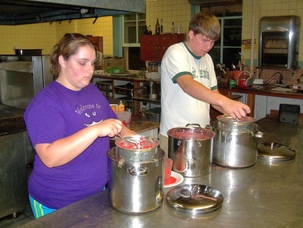 So I took about 50 pounds of tomatoes, washed and cored them, cut them into quarters and ran them through the food processor for a rough chop. Then, as I often do for larger culinary endeavors, I enlisted the help of my Stage Rats, who ran the tomatoes through a Foley food mill, which yielded a pulpy, fragrant tomato puree.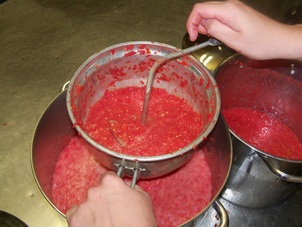 Every kitchen ought to have a food mill, which can rice, grate, mash and puree foods while removing skins, peels and seeds. Mothers use them to make homemade baby food, canners use them to process fruit for jams and jellies, and they're handy for applesauce and even cracker crumbs. They can be a bit fussy to clean and a food processor might be more efficient for some jobs, but its ability to screen out skins and seeds makes them a valuable tool.
Unfortunately, a food mill will set you back anywhere from $35 to $80 when you buy them new, so I recommend you keep an eye out at garage sales, flea markets and the Goodwill store. I've gotten all of mine (I own four of different sizes) for less than $10 each. Look for a mill that isn't too rusty or dented. The center shaft should turn smoothly without being wobbly, and the interior blade should press firmly against the screen. Get the largest you can find and afford, and pretty soon you'll be making homemade applesauce without having to peel all those apples!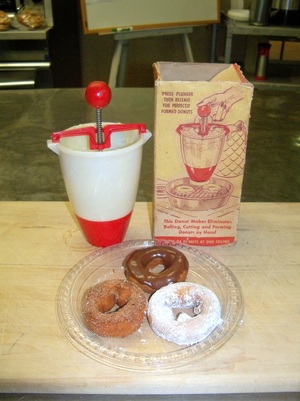 We finished processing the tomato puree about 9 p.m., so after some discussion the Rats and I determined that we ought to make homemade donuts, featuring some real vanilla that one of them brought back from Mexico for me. Naturally I had an old-fashioned donut batter press (made by the Popeil Bros., the predecessor of Ronco) obtained at a flea market for 75 cents, so we fired up the Fry Daddy and had a grand time. Notice the modest size of old-fashioned donuts---much more reasonable than the tractor tire-sized treats in many bakeries. Next experiement: red velvet donuts with cream cheese frosting---I promise I'll share the recipe!
This afternoon I'll add some wine and garlic to the tomato puree, reduce it to the correct thickiness and add fresh minced basil, oregano and rosemary, salt and pepper. Then we'll crank up the biggest steam kettle to can about 20 quarts of pizza sauce tonight. Is my life great or what?

UPDATE AT 10:30 p.m.
The pizza sauce turned out to be very flavorful indeed (plenty of herbs, practicially a whole bulb of garlic in 16 quarts) but far sweeter than usual, although I didn't add any sugar. So I suspect that's due to the type of tomatoes Br. Luke grew this year, which I have found to be deliciously sweet in a salad or on a smoked turkey sandwich, but I'm not sure how it will play out on a pizza.
Secondly, I tried a recipe off the Internet for red velvet cake donuts, and it did not turn out at all. I won't reveal what company website I found it on, but let me say that Queen Guenivere should be looking for a new baker. The cream cheese frosting rocked, so if we can find a red velvet recipe to match, we'll be in business. I may try baking the donuts instead of frying, since I have the special pans needed for that. Somewhere . . .