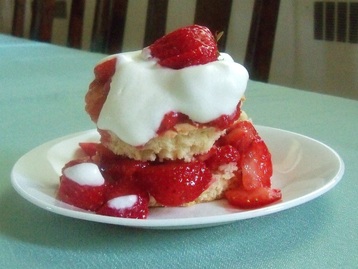 The monks of St. Bede are definitely getting spoiled lately. Last Friday I baked an enriched soda bread flavored with coriander and cut rounds out to make strawberry shortcake (actually has a lot less fat than shortcake. the remaining pieces and crumbly parts will probably go into a peach trifle with spearmint and fennel, if I can keep Fr. Ronald from feeding the leftovers to the birds in the west garden.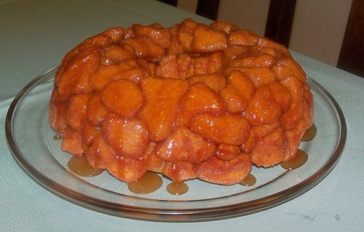 Saturday afternoon I made a monkey bread coffecake with refrigerator biscuits for Sunday breakfast. I know that seems like cheating to use pre-made dough, but it's so simple and so good that I'm not convinced that it's better to make the dough from scratch. There are lots of recipes out there, but the best IMHO is from
www.cooks.com
:
MONKEY BREAD
Content Copyright © 2012 Cooks.com - All rights reserved.
3 packages of buttermilk biscuit tubes
1 cup sugar (divided)
2 teaspoons cinnamon
1 cup butter
1/2 cup brown sugar
Take 3 packages of buttermilk biscuit tubes (10 per roll) and cut each roll into 4 pieces. Drop roll pieces into 1 cup sugar and 2 teaspoons cinnamon. Drop sugar-coated pieces into a well buttered Bundt pan (don't squish roll pieces when placing them in the Bundt pan). Put 1/2 cup of the left-over sugar/cinnamon mix and 1/2 cup packed brown sugar and 1 cup of butter (2 sticks) into a small saucepan. Bring this mixture just to a boil; remove from heat immediately. Carefully drizzle over the roll pieces. Bake at 350°F for 30 minutes. Cool slightly in an upright position, then tip pan over onto a plate to remove monkey pull-apart bread.