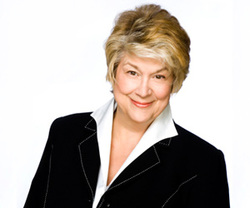 Lynn Rosetto Kasper, host of "The Splendid Table" on NPR
One of my favorite radio programs is Lynn Rosetto Kasper's
"The Splendid Table"
on NPR, which airs in our area on Sunday afternoons at 1:00 p.m. (as they say, check local listings). Its tagline: "the show people who love to eat"! I can't go into all the details as to why this is such great show, but Lynn is a delight and really knows her stuff. Every week she interviews innovative chefs and unique food writers, there's always a segment with Jane and Michael Stern of "Road Food" fame with another restaurant (often lesser known) that is an American treasure, and she takes calls from listeners with questions about recipes.
Her most recent episode had a segment on how to spot a well-written recipe. She writes: "
Who can you trust when it comes to cooking from a blog or investing in a cookbook? You should know, because a bad recipe -- one that is poorly written, or worse yet, untested -- can make you feel like a failure. Nevermind the wasted money and time or the embarrassment, it might even convince you that you can't cook at all.
You can know ahead of time that a recipe will most likely work if you have a checklist of the key things to look for."

The page with her checklist is
here. It's very helpful, and she includes a list of recipe writers you can trust. Her guidelines are for recipes in general, but they make me think that I may have to create a checklist specifically for bread recipes. If you have pet peeves about bread recipes, or information you wish every bread recipe had, drop me a line.