Finally back to the kitchen after two weeks backstage for the Spring Musical at the Academy. The Music Man went just fine once we got into performance, but production week was pretty scary!
Often when I get back to the kitchen after a long hiatus (and two weeks without baking is a looong time in my experience!) I either want to make an old-time favorite or try something new. Tonight I did both: I experimented with adapting some recipes I've made many times before, but switched up the ingredients a bit.
The first was a recipe from my first season of Breaking Bread, a fan favorite called Butter Pecan Breakfast Bread. It uses butterscotch pudding mix and buttermilk to mimic the flavors of Amish Friendship bread. If you have any baking friends, you've probably been afflicted with a batch of the batter in a ziplock bag that requires care and feeding for ten days before you can use it, and then you've got enough to share with other friends who don't want to mess with it either. My version is a lot easier, but I wondered if it could be used to make banana nut bread without having to wait for bananas to go bad.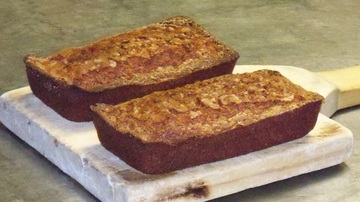 As you can see, the results were less than spectacular. I used Jello banana cream instant pudding, because I couldn't find just plain banana pudding mix, and the banana flavor was rather weak---flat out disappointing, in fact. I had no buttermilk so I used 2% milk, and omitted the baking soda in the recipe that would react with the acid of the buttermilk. I think I should have left it in, or increased the baking powder accordingly, as you can see that the loaves are a bit flat. It looks like it rose and collapsed, too, so it might be underbaked. On the whole, the substitutions seemed not to have worked very well. More experimentation will be needed, and for all the know the whole idea of banana pudding bread may need to be scrapped.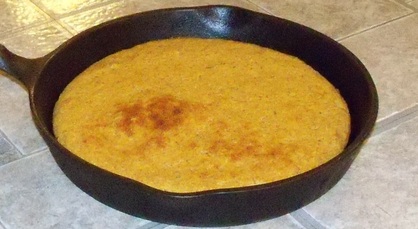 I was somewhat more successful with adapting the recipe for Apricot Skillet Bread, a flatbread that I developed one evening about 12 years ago with one of my former students who was into health food. The original used plain yogurt, spelt flour and chopped apricots (ridiculously wholesome ingredients, I know!) flavored with coriander and ginger. This time around I had pineapple Greek yogurt which needed to be thinned with a little milk, and freshly ground whole wheat flour. The results were considerably more successful than the banana bread, although it appears our oven has developed a hot spot. The flavor is quite subtle, so a light hand with the butter knife and a delicate drizzle of honey are about all the additions you'd need, if any. Cornmeal and wheat germ give it some lovely texture as well. We'll see what reaction it gets from the brethren at breakfast.
I'm not the least bit discouraged by tonight's failure---happens all the time when I'm developing new recipes. I've made breads that were poorly shaped and utterly bland, used too much salt or combined the wrong flavors, overbaked, underbaked and flat out burned loaves that looked pretty good on paper. But I've also gotten new recipes right on the first try, turned out triumphant loaves without measuring a thing, and created monastery favorites simply by using something that we had too much of. Spinach Pesto Pizza came about when we had an abundance of fresh greens from Br. Luke's garden. My tomato basil focaccia started out as juice drained off of chopped tomatoes being used for another recipe altogether. When I demonstrated this last recipe at a baking class and told the story of its origins, one woman asked, "But how did you know that it would work?" The answer, of course, is that I didn't know. But I've never let my own ignorance get in the way of culinary adventure, and neither should you. After all, there's always croutons, or in extremis, the bird feeder!