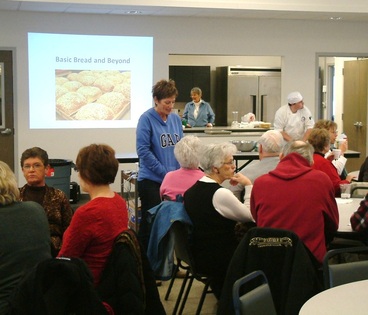 Saturday February 11th I gave my "Basic Bread and Beyond" demo to an enthusiastic group of 77 people in Sullivan Illinois. The event was sponsored by the St. Columbcille Council of Catholic Women and the Sullivan Area Arts Council, and held at the parish hall. St. Bede Academy grad Andrew Loebach came along as my assistant, and we both agreed that St. Columbcille parish hall has the best kitchen we've ever worked in---spacious, well-appointed and with good access through two doors and two serving bays into the seating area. And such nice ladies of the parish assisting us---check out the spread they had for refreshments below.
Finally got myself into the 20th century (still not 21st!) by putting my photos into a PowerPoint show to make it easier for my assistant to go from frame to frame. I have a complete set of photos for most of my demo recipes, so when I'm presenting in a big room everyone can see the steps. I didn't really need it with this somewhat smaller crowd, but it's always nicer to have it, especially for those in the back. I mixed a batched of dough before the program, so that it would be risen and ready to go at the right time of the demo. Then I mix dough at the beginning of the program itself, so as to have a second batch ready when I've shaped the first one. Sometimes the kitchena I work in are a bit cold and it doesn't always time itself right, but this kitchen had a warming cabinet (told you they were well-appointed) so everything worked out great. I made a slab braid, Bambino Bread, Rose Rolls and a Lattice Braid, all of which turned out almost as nice as if Martha Stewart had made them (inside joke with attendees). It was a great time and Andrew and I would go back for another demo there any time, although there's a parish in nearby Effingham that may beat them to it!
I don't have photos of thre actual breads from this demo, but here are some of my PowerPoint photos to give you an idea.