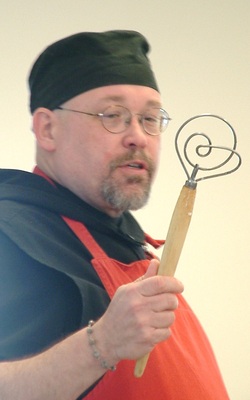 Whenever I give a bread demo, I usually show some of my favorite hand tools, among them the dough whisk to the left. Also called a "brotpisker" , this Scandanavian tool is a must-have for the beginning baker and the serious Breadhead. The swirl of rigid wire at the end of the tool makes mixing pancake and muffin batter a snap, especially valuable since you don't want to overbeat quick breads or the finished product can be tough. I find it even more useful for yeast breads, as you can incorporate a cup of flour into a yeast bread recipe about three times faster with a dough whisk than with a wooden spoon. My brotpisker is over 30 years old and has seen a lot of use. The newer ones are usually made in Poland and are not quite as sturdy but will certainly give you years of service.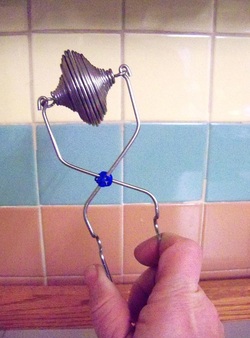 Another useful gadget is the flour wand, shown here in the closed position. This tool was invented in Victorian times when pie making at home became increasingly popular. The tool allows you to get flour out of a bag or canister without touching it with your hands, which is especially useful when your hands are sticky with pie crust or bread dough. You squeeze the tool to open the spring (see below), swirl it around in the flour and then close it. The flour gets caught in the spring, and you can them use to tool to control the amount of flour you sprinkle on your kneading board or pie crust while rolling. Great for pizza, too!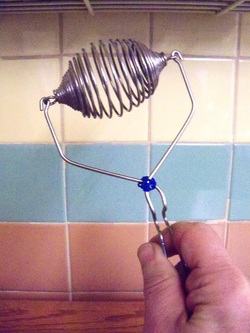 Both the flour wand and the dough whisk are available from a variety of online sources, including
King Arthur Flour
,
Shop in the Kitchen
, and
Amazon
.
You can sometimes find them at shops like
Fantes
in Philadelphia or chains like Sur La Table, but not every store carries them so you may want to phone first before making a specal trip. The Colony Store in Bishop Hill (101 West Main St., Bishop Hill, IL, 61419, 309-927-3596) almost always has the dough whisks in stock.